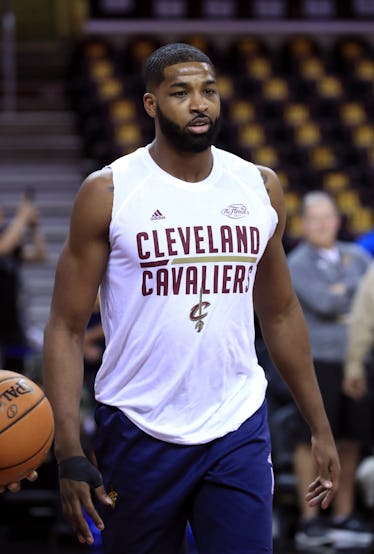 Tristan Thompson's Message About Khloe Kardashian's Pregnancy Will Make You Sob
Ronald Martinez/Getty Images Sport/Getty Images
Someone pinch me, because I'm not entirely convinced that this is really happening. Finally, after months of non-stop speculation, Khloé Kardashian confirmed that she's pregnant in an Instagram post on Wednesday, Dec. 20. As exciting as it was to finally know for sure that another Kardashian baby is on the way, fans next had to wait for Tristan Thompson's response to Khloe's pregnancy announcement.
Of course, we could assume that he was absolutely thrilled, considering what Khloé said in the announcement. To share their big news, she posted a photo of herself wearing a Calvin Klein sports bra, with her and Tristan's hands cradling a small baby bump. Khloé added a long caption about how excited she is to become a father, and obviously brought up Tristan. She wrote,
I still at times can't believe that our love created life! Tristan, thank you for loving me the way that you do! Thank you for treating me like a Queen! Thank you for making me feel beautiful at all stages! Tristan, most of all, Thank you for making me a MOMMY!!!
Awww! And if that's not sweet enough, she went on to describe exactly how amazing Tristan has been throughout her pregnancy:
You have made this experience even more magical than I could have envisioned! I will never forget how wonderful you've been to me during this time! Thank you for making me so happy my love!
Well, it seems like Khloé really said it all for the couple, because the first way Tristan responded to the announcement was simply by liking the Instagram post.
After all, I couldn't have been the only one furiously refreshing my IG feed to see who was liking and commenting on Khloé's photo... right? First, most of the Kardashians liked the pic (yes, including Kylie), along with Khloé's famous friends, and pretty much everyone I follow on Instagram. Then, finally, about an hour after Khloé shared the announcement, Tristan liked it.
Soon after, he left a comment that will literally melt your heart.
Tristan wrote,
My love, Thank you for allowing be to be apart of your journey and entering your life that day at the bel air hotel. One of the best moments in my life. I'm soo happy to be on this journey together with you and creating this angel from the man above. Everyday I give thanks to him for bring us together. I love you soo much and I know our little angel feels the love we share together and will know that mommy and daddy loves them unconditional forever and ever amen. Btw, shoutout the brodie @brandonjennings for bringing this King and Queen together. Love my G
Funnily enough, Khloé actually responded to her own pregnancy announcement before Tristan did. After she posted the photo and was immediately met with literal millions of likes and a flurry of positive comments and tweets, she took a moment to thank fans for their support.
Khloé even said in the pregnancy announcement that she waited to share the news so that they could just bask in the happiness before facing public scrutiny. At the end of the IG caption, she wrote,
Thank you to everyone for the love and positive vibes! I know we've been keeping this quiet but we wanted to enjoy this between our family and close friends as long as we could privately. To enjoy our first precious moments just us ❤️ Thank you all for understanding. I am so thankful, excited, nervous, eager, overjoyed and scared all in one! But it's the best bundle of feelings I've ever felt in my life!
Whenever we do hear more from Tristan, I'd expect a similar level of excitement and emotions. Khloé said on a recent episode of Keeping Up With The Kardashians, "[Tristan] wants to have kids now. He said, 'I want to have kids with you, [and] if you get pregnant, you could make maternity jeans for [your clothing line] Good American."
She's also said on the show, "Tristan and I definitely talk about starting a family. He wants to have like five or six kids with me, and that's lovely. We can start at one and grow from there."
This pregnancy seems to be something that both Tristan and Khloé have wanted for a long time, so an Instagram like is nothing compared to the joy they're both surely feeling.