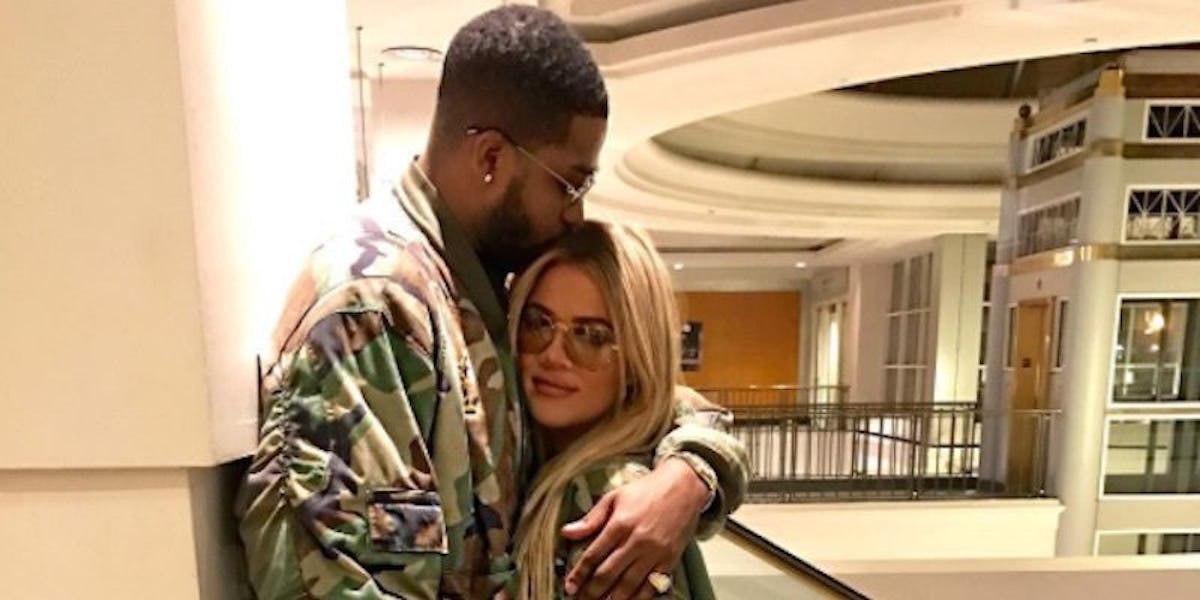 Khloé K & Tristan Could Have A Huge Decision To Make If Pregnancy Reports Are Real
Instagram
I believe in love again, and it's thanks to Khloé Kardashian. Rumors struck this past weekend that the 33-year-old reality TV star is reportedly pregnant with boyfriend Tristan Thompson's baby, and while nothing has been confirmed, something tells us these two are in it for the long haul. CALL IT A HUNCH OR A THOUSAND TWEETS TELLING ME SO. (Elite Daily reached out to Kardashian's team for comment, but did not hear back by time of publication.) If this great news is true, or even if it isn't, fans are wondering where are Khloé Kardashian and Tristan Thompson going to live? If the pregnancy reports are real, the couple might have to decide where to raise a child.
For you weirdos who aren't tuned into what's up with the Kardashians, here's the brief recap. Khloé and Tristan met in September of 2016 and have been dating for roughly a year. Thompson is a 26-year-old professional basketball player for the Cleveland Cavaliers, and objectively the most charismatic and charming athlete Khloé has dated yet. As part of the Keeping Up With The Kardashians 10th Anniversary Special, KoKo let us in on their origin story and where they're at now in terms of their living situation.
She said,
Brandon Jennings, who's a basketball player — he's a friend of mine and Malika's — he was like, 'you're such a good girl, I want to introduce you to someone.
Still, Khloé wasn't necessarily up for a blind date situation, admitting that Jennings "ambushed" her with Thompson at a group dinner. She said, "We just connected."
Khloé also spoke on the special about how it's always been hard for her to put herself first, and taking time away from her family to be with Thompson has been difficult. Right now, the two split their time between Khloé's hometown of Los Angeles and Tristan's city of Cleveland, with Khloé explaining, "Pretty much whenever Tristan is at home in Cleveland, I try to be there."
But, it's not ideal for her, as confirmed by her older sister Kourtney. Kourt explained,
I think you still feel guilty sometimes about it. I feel like if she goes to Cleveland to see her boyfriend — where she spends like, half of her time — she'll feel like she always needs to make other people a priority.
For Khloé, that rings true. She replied,
I've always been the one that picked up the slack when you guys were pregnant or on maternity leaves or this and that. And now I feel bad that I'm in another state and I'm kind of leaving you guys, or even just missing certain things... ... The only thing I wish is that we were in L.A. and we could all be together. But that's not the way it is, so I've just got to put myself first.
Hm... do you mean you and your baby, girl?
Fortunately, we know between Thompson's professional athlete salary and the Kardashian empire, the two should be financially set up to have the flexibility to navigate their alleged growing family between multiple locations. Plus, Khloé even said on the season finale of Season 13 of KUWTK that Thompson wants a sh*t-ton of babies, so they've gotta figure SOMETHING out.
He wants to have about five or six kids with me and that's lovely. We could start at one and we could grow from there. But now knowing I'm not on birth control is scary. It's like a really big step.
Um, yeah.
Luckily, these two seem to be the real deal, and the love Thompson shows for Khloé has us totally swooning. I mean, you guys remember the message he wrote her for her birthday on Instagram, right?
Happy bday my love, this picture right here sums up how wild, crazy and how much we love each other. Let's continue to build more memories and cherish them with each other. God bless you, I love you
Ugh. We totally love to love you guys. So, if the pregnancy reports are real, what will it be: LA or Cleveland? I guess we'll have to wait to find out.
Check out the entire Gen Why series and other videos on Facebook and the Bustle app across Apple TV, Roku, and Amazon Fire TV.