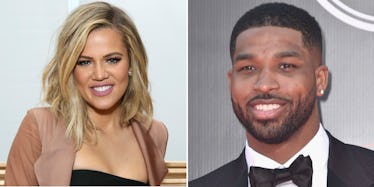 Fans Think This Clue On Instagram Reveals The Sex Of Khloé Kardashian's Baby
Cindy Ord/Alberto E. Rodriguez/Getty Images
Khloé Kardashian finally confirmed her pregnancy back in December of 2017, but she and Tristan Thompson still haven't revealed the sex of the baby. Fans are dying to know, so naturally, they're taking every little thing the couple does as a possible hint. (I mean, I do the same, so no complaints here.) This clue Khloé Kardashian is having a baby girl has been taken from Tristan Thompson's Instagram this time, and while it might be could be a clue, I really doubt it is. The clue in question is a photo Thompson posted of himself to Instagram on Sunday, Jan. 28. In the photo, he's wearing a pink jacket. Fans are taking that as a sign he and Kardashian are expecting a baby girl, but guys, the man can wear pink without it being a clue! Kardashian confirmed her long-rumored pregnancy on Dec. 20, 2017. She announced it on Instagram in a post that read,
My greatest dream realized! We are having a baby! I had been waiting and wondering but God had a plan all along. He knew what He was doing. I simply had to trust in Him and be patient. I still at times can't believe that our love created life! Tristan, thank you for loving me the way that you do! Thank you for treating me like a Queen! Thank you for making me feel beautiful at all stages! Tristan, most of all, Thank you for making me a MOMMY!!! You have made this experience even more magical than I could have envisioned! I will never forget how wonderful you've been to me during this time! Thank you for making me so happy my love!
Thompson posted this photo on Jan. 28 and people immediately starting making conspiracy theories about it.
Fans are commenting on this photo of Thompson saying the pink jacket means their baby is going to be a girl.
Kardashian also commented on the post saying "there's daddy," which is only adding more fuel to these fans' theories.
Thompson captioned the post, "Great team win! #OnToTheNext," which obviously has nothing to do with babies and everything to do with sports, but Kardashian pregnancy conspiracy theories are more popular than Keeping Up With The Kardashians nowadays, so these theories will keep chugging along.
If you're worried we won't find out the sex of Kardashian and Thompson's baby until after it's born, don't be. Kardashian confirmed they'd reveal the sex on KUWTK.
In an interview with Ellen DeGeneres on Jan. 3, Kardashian said they hadn't learned the sex yet but were planning to. She also talked possible baby names (she likes Tristan Junior for a boy and something that starts with K or T for a girl) and how "surreal" being pregnant has been so far for her. She later tweeted at a fan who asked if she and Tristan planned on revealing the sex of the baby on the upcoming episode of KUWTK, to which Kardashian responded, "We will be revealing on the show but not this week." Amazing! So, we will find out the sex of the baby on the show just like we learned how Kardashian told her family she was pregnant.
Kardashian also revealed in an interview with Jimmy Kimmel on Jan. 4 that Thompson predicted she was pregnant.
"He kept saying: 'You're pregnant,'" she said. "I was nauseous, not feeling well. And then he had to leave the country and I took a pregnancy test. And I was like, screaming. It's so weird and surreal." She added that her assistant Alexa purchased the pregnancy test. "So it was Alexa, my assistant, Tristan, and I — we were the only ones that knew for a few weeks until I was able to tell my family," Khloé said. She also confirmed to Kimmel that the moments she told her family she was pregnant were all caught on camera for an episode of KUWTK. She said,
Because he [Tristan] was out of the country, we wanted to wait to tell everyone together. It's actually all caught on Keeping Up, which I'm excited about because they [my family] get to see all the stuff I was going through without them knowing.
I'd like to issue a formal thank you to Khloé Kardashian for being the only Kardashian I'm actually able keep up with.