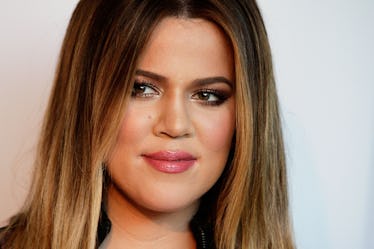 This Might Be A Big Hint About What Khloe Kardashian Will Name Her Baby
Lisa Maree Williams/Getty Images Entertainment/Getty Images
It's official. Khloé Kardashian has finally confirmed her pregnancy with boyfriend Tristan Thompson, after months of torturing us. (OK, OK, I mean after months of reveling in the happy news as privately as possible.) And now that we have confirmation that another Kardashian is on the way, we're left wondering: what will Khloé Kardashian name her child?
While nothing else has been officially confirmed, Us Weekly — which first reported Kardashian's pregnancy back in September — has reported that Kardashian and boyfriend Thompson are expecting a boy. A boy! In the Kardashian family! Rob, Saint, Mason, and Reign will have some company among the veritable sea of ladies. And though we don't know for sure when she's due, Kardashian also had a 20-week check-up on Oct. 9, according to that same Us Weekly report, which means she's probably about 30 weeks along (or just shy of 7 months), so this train will be pulling into the station before we even know it. That also means that the baby-to-be will probably be a Pisces, which, meh.
Anyways, we may have an idea of what name Kardashian is thinking of giving the li'l Kardashian-to-be.
According to Momtastic, when Kardashian was still with ex-husband Lamar Odom, Odom discussed their future family and potential names. In an interview with UsMagazine.com, Us Weekly's website, Odom said, "Boy, it would be Luke Joseph. The girl [name] is on her."
So we could be looking at a Luke Joseph Kardashian-Thompson if it's a boy — though we're not totally convinced she would use a name she and an ex picked out. But who knows? Some people are weird about names and pick them out long before they actually get down to making a family. So, you know, it's not outside of the realm of possibility.
But what we definitely do know is how excited Kardashian is to become a mom. She has publicly discussed her fertility struggles and desire to have a family in the past, and when she finally announced, she made no secret of her feelings.
Kardashian made the announcement on Instagram on Wednesday, Dec. 20, with a very sweet statement.
She wrote,
My greatest dream realized! We are having a baby! I had been waiting and wondering but God had a plan all along. He knew what He was doing. I simply had to trust in Him and be patient. I still at times can't believe that our love created life! Tristan, thank you for loving me the way that you do! Thank you for treating me like a Queen! Thank you for making me feel beautiful at all stages! Tristan, most of all, Thank you for making me a MOMMY!!! You have made this experience even more magical than I could have envisioned! I will never forget how wonderful you've been to me during this time! Thank you for making me so happy my love!
She then explained why they waited a few months to announce the pregnancy: "I know we've been keeping this quiet but we wanted to enjoy this between our family and close friends as long as we could privately."
That is completely fair. Pregnancy is a wonderful, incredibly intimate experience that weirdly inhabits a public space, and it unfortunately invites people's comments. So I don't blame Kardashian for keeping the news mum for as long as possible.
The timing of the announcement also makes us wonder if another important Kardashian clan family update is coming. Around the same time that Us Weekly first reported Kardashian's pregnancy, they also alleged that half-sister Kylie Jenner is pregnant. While Jenner has yet to announce anything, her Instagram has been devoid of any of the usual thirst traps for which she's known, among other hints.
So maybe it's a Kardashian Kristmas Baby Miracle!
Later, on Twitter, Kardashian said she was "so nervous" to announce her pregnancy at first, but has been overwhelmed by the outpouring of love.
Aw, Khlo. Arguably the best Kardashian. Actually, no, it's not an argument. She is the best, and she deserves all the happiness in the world. Congrats to the parents to be!