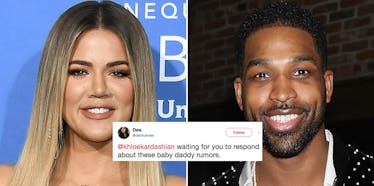 Twitter Is Dying To Know If Khloé K Will Respond To Tristan Thompson Cheating Reports
Dia Dipasupil/Cassidy Sparrow/Getty Images/Twitter
The internet is waiting with baited breath to see if Khloé Kardashian will respond to the reports that Tristan Thompson reportedly cheated on her. Videos of Thompson seemingly kissing another woman surfaced on Tuesday, April 10, when The Daily Mail published a video of Thompson at a club in NYC over the previous weekend. TMZ subsequently released a video of Thompson with three women in a hookah bar from October of 2017 that stoked more cheating rumors. The main question on fans' minds is: Will Khloé Kardashian respond to Tristan Thompson cheating reports? Each tweet you read about this shows a different opinion on the matter, but she doesn't need to respond at all. Elite Daily reached out to Kardashian and Thompson's teams for comments on the cheating reports, but did not hear back by the time of publication.
The video The Daily Mail released is hard to make out. While the outlet claims Thompson is kissing the brunette woman seen in the video with him, he's wearing a hoodie that blocks the view of his face and the angle at which the video was taken makes it even harder to figure out what's happening in it. The October 2017 video TMZ released on April 10 is more clear, as it clearly shows Thompson's face and the faces of the three women he was with at the time. According to Us Weekly, Kardashian has seen the reports but is choosing to focus on the upcoming birth of her and Thompson's daughter instead. Since she's due any day now, fans feel this added stress isn't something she needs to take on. A source told the outlet, "Khloé is focusing on delivering a healthy baby. She doesn't want to deal with any of these rumors regarding Tristan kissing another woman."
People on Twitter are wondering what's going through Kardashian's head in the middle of this frenzy/imagining what they would do if they were in her shoes.
Many feel she needs to respond to either put truth to the rumors or deny them, and also let her fans know what her decision going forward will be.
But the reality of the situation is that she doesn't have to tell us anything. Being a celebrity — even an famously public one like a Kardashian — doesn't mean you sign away your right to privacy. Any statement Kardashian and her family decides to release, if at all, is their prerogative. And while many may feel it would be unusual for Kardashian not to open up about this reported part of her relationship is odd due to how open she has been about it in the past, at the end of the day, it's her choice whether or not to publicly address the reports. She is also nearly nine months pregnant, so this stress might be something she's choosing to avoid altogether leading up to the birth of her first child.
There are lots of fans who are coming out in support of Kardashian.
She posted a message to Kardashian on her Instagram story saying, "I know we've had our differences in the past but my heart is broken for you sis smh no one deserves to feel that pain especially during such a sensitive time. God bless you and your baby."
But a lot of people are also bringing up the fact that Thompson reportedly left his pregnant girlfriend Jordan Craig to be with Khloé Kardashian.
It's safe to say the internet is pretty divided on how it collectively feels about these cheating rumors. But Kardashian doesn't have to respond, and something tells me she's not planning to, at least not until after her daughter is born.