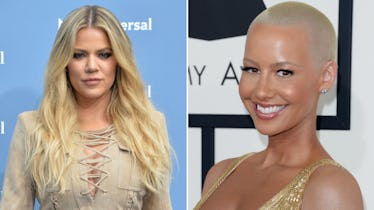 Amber Rose Posted An Emotional Note To Khloé K After Tristan Thompson Cheating Reports
Slaven Vlasic/Getty Images Entertainment/Getty Images | Jason Merritt/Getty Images Entertainment/Getty Images
Khloé Kardashian is just about ready to give birth, which means this really isn't the best time to learn that Tristan Thompson might have reportedly cheated on her. At a time when Kardashian should be at her happiest, she's unfortunately having to grapple with the potential breakdown of a cherished relationship. And model Amber Rose seems to be able to relate. After The Daily Mail published an April 10 report that alleged Thompson was cheating on Kardashian, Amber Rose took to social media to support Khloé Kardashian.
In a touching and powerful Instagram post, Rose chose to put the past aside and reach out. The Instagram story reads:
I know we've had our differences in the past but my heart is broken for you sis smh no one deserves to feel that pain especially during such a sensitive time. God bless you and your baby.
Never one to hold her tongue, Rose has always been ready to be real, speak her mind, and let the world know what's what. And despite her past feuds with Kardashian, that's what seems to be the case here. While Rose's post doesn't mention Kardashian specifically, her reps confirmed to Entertainment Tonight that the post was, in fact, intended for Kardashian.
Back in 2015, Rose and Kardashian feuded on social media after Rose said some choice words in a radio interview about Kardashian's younger sis Kylie Jenner. Rose also famously dated Kardashian's brother-in-law Kanye West. So, I guess it's safe to say that Rose and Kardashian are somewhat intertwined by a history of family connections and not-so-nice social media rants.
But now, Rose seems ready to bury the hatchet in an effort to offer Kardashian some kind words during what is likely a difficult time. I love it, honestly, because there's nothing more powerful than women supporting and uplifting other women in times of need. And if the cheating allegations are true, then Kardashian needs all the support she can get right now.
So, is there truly trouble in paradise for Khloe Kardashian and Tristan Thompson? Only if you believe what The Daily Mail has to say about it. Their report included a video of Thompson chatting with a young woman in a Manhattan club, and the report claims Thompson kissed her. The video has sparked a lot of controversy on social media. Fans and celebrities alike are tweeting their outrage over the incident. Elite Daily reached out for comment from both Kardashian's and Thompson's teams, but received no response by the time of this publication.
Thompson, 27, who plays in the NBA for the Cleveland Cavaliers, met Kardashian, 33, in late 2016. The two hit it off and after that they were basically off to the races, so to speak. Their coupling happened just months before Thompson welcomed his son Prince, who was born in December 2016, with ex Jordan Craig.
Kardashian revealed she was eight months pregnant in February 2018. And if that's true, then she must be ready to give birth any day now. The couple is reportedly welcoming a baby girl.
Whether Thompson truly cheated on Kardashian or not, I hope they can work things out. It seems like Kardashian really cares for Thompson. Back in February 2018, she posted on her blog that she knew "very quickly" he was the one for her.
"I knew Tristan was the one very quickly — I have never felt so comfortable or so safe with someone."
For the sake of love and her baby daughter, I wish Kardashian nothing but the best, as I'm sure most people are doing at the moment. Good vibes only!