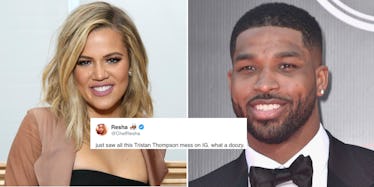 These Tweets About Tristan Thompson Reportedly Cheating On Khloé Kardashian Are So Brutal
Cindy Ord/Alberto E. Rodriguez/Getty Images
Khloé Kardashian is set to give birth any day now, so imagine the frenzy the internet went into when it was reported on April 10 that Tristan Thompson reportedly cheated on her. The couple's relationship seemed solid to many, so this has come as a big shock and fans are pissed. The tweets about Tristan Thompson reportedly cheating on Khloé Kardashian show how angry fans are about the rumors, but of course, there are those who couldn't help but theorize that this story being released when it was is the handy work of momager extraordinaire Kris Jenner. Elite Daily reached out to Kardashian and Thompson's teams for comment on the reports, but did not hear back by the time of publication.
On Tuesday, April 10, The Daily Mail reported that Thompson was seen kissing a woman in a club in Manhattan last weekend. A video obtained by The Daily Mail appears to show Thompson standing with a brunette woman. The woman has her arm around Thompson's shoulder and The Daily Mail claims they can be seen kissing in the video, but the hoodie Thompson is wearing blocks any alleged kiss from being seen. The angle at which the video was taken also makes it difficult to figure out what's going down between Thompson and the unidentified woman.
A woman who was reportedly there the night this video was taken told The Daily Mail, "I was there and he was on the table right next to us with a group of friends and some girl who he was obviously making out with all night. They were holding each other and it was so obvious. They were there when I got there and they were part of a big group of friends."
Fans are p*ssed Thompson would reportedly cheat on Kardashian at all, but the fact that she's pregnant makes it much worse.
Of course, there are those who are taking this opportunity to make jokes about Kris Jenner.
The devil works, but Kris Jenner works harder.
The Shade Room and TMZ published the same video obtained by The Daily Mail, but TMZ also released an additional video of what reportedly appears to be Tristan Thompson sitting in a hookah bar with three unidentified women back in October 2017. TMZ claims the video was obtained via surveillance footage in the hookah lounge from Oct. 7, 2017. Elite Daily reached out to Kardashian and Thompson's teams for comment on TMZ's video but did not hear back by the time of publication.
People were tweeting about the reported October video as well. Some people on Twitter think the release of this October video was a calculated move leading up to Kardashian's due date.
Khloé Kardashian (and the whole Kardashian/Jenner family, for that matter) has yet to comment on any of these reports. A source did tell Us Weekly that the family reportedly had their fears about Thompson when Kardashian first got with him. "Khloé's mom, Kris, and sisters Kim and Kourtney, all had concerns about her relationship with another basketball player," the source said, "and now their fears appear to have serious merit."
The source continued, "Women are constantly throwing themselves at professional athletes, and it's very easy to stray when teams are on the road. Kris never expressed her fears to Khloé because she felt it would cause nothing but drama and create tension." The source did say that Kardashian is reportedly choosing to focus on the birth of her daughter over reports of Thompson kissing another woman. "Khloé is focusing on delivering a healthy baby," the source said. "She doesn't want to deal with any of these rumors regarding Tristan kissing another woman."
It's not clear if Kardashian's due date has already passed or is soon approaching, but Kardashian did post a photo of her and Thompson from her maternity photo shoot to Instagram on Tuesday, April 10, saying, "We are ready whenever you are little mama." It's safe to assume she'll be giving birth very soon.