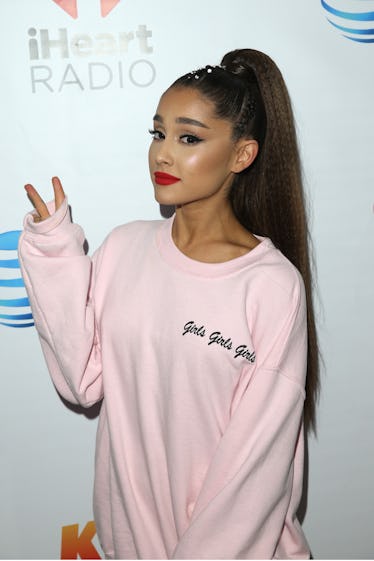 Ariana Grande Ditched Her Signature Look For Her 'Vogue' Cover & Fans Barely Recognize Her
Jesse Grant/Getty Images Entertainment/Getty Images
The past month sure has been a whirlwind for Ariana Grande, and by the looks of Grande's July 2018 British Vogue cover, her relationship status isn't the only thing that has experienced major changes recently. In just the past few weeks, Grande has broken up with previous boyfriend Mac Miller, endured the one-year anniversary of the Manchester terrorist attack, announced the drop of her new album Sweetener, made her relationship with SNL star Pete Davidson public, and now, she's debuted a brand new look on her first ever Vogue cover that has fans doing a double take.
Grande graced the magazine's July cover with honey blonde locks and a fresh, freckled face, making her look entirely unrecognizable — so much so that some may call it a "make-under." When you think of the "No Tears Left To Cry" singer, you probably think of her ultra-high, ultra-snatched ponytail and sharp cat-eye, but clearly not anymore. I don't know about you, but I'm starting to believe they saying that a woman who changes her look is about to change her life.
Grande's longtime hairstylist Chris Appleton was the mane master behind the brunette-to-blonde transformation, and makeup artist Mark Carrasquillo traded in the singer's usual sky-high lashes, striking contour, and bold cat-eye for soft lashes, a natural complexion dusted with freckles, and not a touch of liquid eyeliner in sight.
The new shade of blonde isn't that shocking, considering we've seen Grande with lighter locks before. It's the fact that she's rarely ever seen with her hair down that has fans questioning whether or not that's really her.
Grande posted a slideshow of images from the cover shoot and paired it with the caption, "thank you @britishvogue♡ I don't even know where to begin to express my love and gratitude @edward_enninful ☁️shot by @craigmcdeanstudio love n thanks to @kphelan123 @chrisappleton1 @markcarrasquillo." Could the new undone style become the singer's new signature look? If her Instagram caption is any indication, then it's quite possible, as she seems to love the new look. Perhaps this really is the year that changed everything, just as the subtitle on the cover suggests.
So is it really goodbye to the sleek pony and hello to natural, flowing hair? After everything the pop star has experienced lately, has the time finally come where she feels she can figuratively and literally let her hair down? Well, I'm not so sure to be honest, but either way, the Twitter world is ripe with reactions over the Grande's style change. Here are some thoughts people have about the most recent development in a string of major moments that the singer is having.
Well, it seems Gigi Hadid, who just so happened to co-star on British Vogue's March 2018 cover, is definitely a fan.
Some people are happy to see Grande let her hair down. (But hey, don't bash the iconic ponytail!)
And honestly, most others are just plain shook.
Seriously, people genuinely didn't even realize it was her at first.
The comments on Grande's post featuring the cover are nothing but pure love.
I'm not sure how you could give someone birth, or how a magazine cover could do it, but Grande's cover worked miracles for this person.
Let this person live, Ariana.
Yes, it's confirmed. God is a woman in the form of Ariana Grande herself.
Obviously, Ariana Grande's high ponytail, sharp cat-eye look will forever be iconic and straight up gorgeous. But this new soft, blonde, glowing look is the perfect embodiment of all thing summer, and it deserves a million standing ovations.