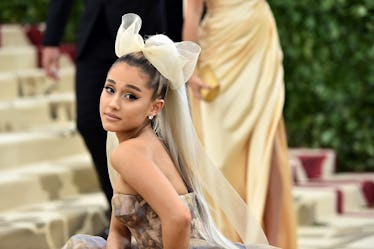 Ariana Grande's Tweet About The Manchester Attack's 1-Year Anniversary Is Heartbreaking
Jason Kempin/Getty Images Entertainment/Getty Images
Tuesday, May 22, 2018, marks the one-year anniversary of the terrorist attack that killed 22 people at Ariana Grande's concert in Manchester, England. People have been tweeting to commemorate the day, and Ariana Grande's tweet about the Manchester attack's one-year anniversary is a short and touching tribute to those who are still grappling with that night's events. Grande sent out a tweet to the survivors of the attack and the families of the victims on the early morning of May 22 saying, "thinking of you all today and every day. I love you with all of me and am sending you all of the light and warmth I have to offer on this challenging day."
According to BBC, a vigil is being held to remember the 22 victims of the attack. One of the attack's survivors, Adam Lawler, 16, said in an interview with BBC, "If I could go back in time, I would change everything. But I can't, so what I'm going to do is I'm going to try and live my best life." One of Lawler's best friends, Olivia Campbell-Hardy, was killed in the explosion. Lawler was reportedly hit by 20 pieces of shrapnel and sustained multiple injuries, but has now healed and is looking to move on with positivity. He said, "I broke both my legs, lost seven teeth. I nearly lost my right eye. I regained vision in it thanks to the amazing doctors. I nearly lost my tongue." That's just one of the many heartbreaking stories from that night, but Lawler, Grande, and Grande's new single "No Tears Left To Cry" are looking toward a positive future.
Grande tweeted in honor of the one-year anniversary of the Manchester attack on Tuesday, May 22, 2018.
Fans responded with an outpouring of love for the singer.
It's not known if Grande will be attending the vigil in Manchester, but Prince William and Theresa May are reportedly set to attend. People have been posting photos of bees and using the bee emoji in their tweets honoring the victims as a show of support for the city of Manchester. The worker bee is the city's symbol, so it has become a symbol of strength. Grande used the bee emoji in her tweet about the one-year anniversary, and there's also a bee featured in the final seconds of the "No Tears Left To Cry" music video.
She opened the show with the powerful performance.
Just weeks after the Manchester attack, Grande coordinated the One Love Manchester concert that went down on June 4, 2017.
The concert was intended to uplift and raise money for the families. ("One Last Time" and Grande's cover of "Somewhere Over The Rainbow" were released as charity singles.)
In a recent interview with TIME, Grande opened up about the attack and how it made a lasting mark on her and her fans. She said,
There are so many people who have suffered such loss and pain. The processing part is going to take forever. I don't want to give it that much power. Something so negative. It's the absolute worst of humanity. That's why I did my best to react the way I did. The last thing I would ever want is for my fans to see something like that happen and think it won.
Grande said it was important that she respond to the attack the way she did (setting up the One Love Manchester concert). In the days following the attack, Grande apparently didn't think she'd ever be able to perform again because it would be too hard. Scooter Braun, her manager, told TIME that he encouraged her to continue her tour to try and uplift her fans. To that, Grande reportedly responded, "I can never sing these songs again. I can't put on these outfits. Don't put me in this position." A couple days later, she reached out to Braun with the idea for the One Love Manchester concert. She reportedly said to Braun, "If I don't do something, these people died in vain."
Grande's upcoming album is called Sweetener. She told TIME she gave the album that name because it's a metaphor for making something beautiful out of a bad situation. She said, "When you're handed a challenge, instead of sitting there and complaining about it, why not try to make something beautiful?" Sweetener will be released sometime this summer.