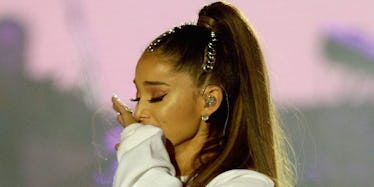 Ariana Grande Released The Most Beautiful Song To Benefit Manchester Victims
Getty Images/Dave Hogan for One Love Manchester
Ariana Grande's One Love Manchester concert was held on Sunday, June 4, and on Tuesday night, the live recording of the concert was released as an album on several streaming services.
The entire show was packed with emotional and uplifting performances, but one of the most moving of all was the finale. Ariana Grande sang "Somewhere Over The Rainbow" to the crowd, and it was a such powerful performance that it brought both Grande and the audience to tears.
Following the performance, fans on Twitter urged Grande to release her cover of the song as a single. Just before the concert, she re-released her song "One Last Time" as a charity single benefitting the Manchester victims.
And now, her cover of "Somewhere Over The Rainbow" has also been released as a charity single. All of the proceeds from the One Love Manchester concert and corresponding album will go to the victims and their families via the We Love Manchester Emergency Fund, as coordinated by the British Red Cross and Manchester City Council.
There wasn't a dry eye in the house during Grande's cover of the Wizard of Oz classic.
Even this 11-month-old baby couldn't hold back the tears.
This is seriously the most heartwarming video I've seen in years.
Grande reposted the above video on her Instagram as well, and now I'm sobbing again.
During the benefit concert, Manchester's Parrs Wood High School Choir performed "My Everything" alongside Grande. Some of the members of the choir were at the concert in Manchester Arena when the attack happened on May 22.
The performance is now part of the One Love Manchester album as well.
Some of the performers at the concert included Justin Bieber, Coldplay, Katy Perry, Miley Cyrus, Pharrell Williams, Usher, Take That, and Niall Horan.
The concert raised over $13 million for victims and their families.