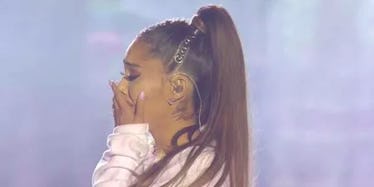 You Need To See The Emotional End To Ariana Grande's Manchester Concert
Twitter Live
Ariana Grande fought tears for much of the evening as she sang throughout the One Love Manchester concert. Instead she sang, thanked the crowd, and hugged her way through the emotional evening held to honor victims of the Manchester bombing.
Early in the show, she wept briefly as she and the Black Eyed Peas performed "Where Is The Love."
But she finally took a full moment to publicly mourn as she closed out the show with a flawless rendition of "Over The Rainbow", a song made famous in the 1939 film, The Wizard of Oz.
Grande wept and continued to thank fans for being in attendance as they cheered her on with love and held up cell phone lights in the dark.
Fans were also moved to tears by the vocal powerhouse's performance.
Grande has spent the last few days showing love to the people of Manchester.
She penned a heartfelt note via Twitter, orchestrated a full-ensemble concert, and even took the time to visit with a few injured victims in the hospital.
As Grande sang her heart out during the benefit concert, all of her emotions seemed to finally arise in a beautiful bubble of empathy and compassion.
To watch her and the Manchester fans cry together was a powerful moment for music and for the world, in general.
After Grande took her moment, she continued "Over The Rainbow" and ended her show by waving and telling her fans that she loves them.
Catch the full performance below:
This entire One Love Manchester concert was the perfect way to answer hate with an abundance of unity, love, peace, and of course — more music.
As Grande wrote in her original letter to Manchester,
We will not quit or operate in fear. We won't let this divide us. We won't let hate win.