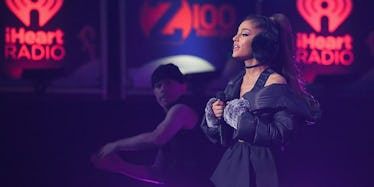 Ariana Grande Visits Fans In Manchester Hospital Before Her Benefit Concert
Nicholas Hunt/Getty Images for iHeart
Ahead of her June 4 benefit concert for the Manchester bombing victims, Ariana Grande visited fans recovering at Royal Manchester Children's Hospital on Friday.
In addition to an appearance, she gifted each fan with a sunflower and teddy bear.
Lauren Thorpe, mother of 8-year-old Lily, who underwent surgery for a shrapnel wound in her back, said Grande was "unbelievable," according to CNN. The mother added, "She knelt by her and sat on her bed with her and told her 'I'm so proud of you, you are so strong and doing really well'."
The One Love Manchester Twitter page, which provides details about the June 4 performance, updated fans with a collage of photos from Grande's appearance.
Fans took to social media to show their excitement over the pop star's visit.
One father discussed Grande's visit with his daughter for BBC News.
The benefit concert will feature performances from Justin Bieber, Katy Perry, Miley Cyrus, among others, and all proceeds of the event will go toward the "We Love Manchester Emergency Fund," which is working in conjunction with the British Red Cross and Manchester City Council.
Though the attack that killed 22 victims and injured close to 60 people left a horrific impression worldwide, Grande has not backed down.
She took to Twitter to release a statement about the tragic event, saying,
We will not quit or operate in fear. We won't let this divide us. We won't let hate win.
She has continued to support victims, not just with words, but financially as well.
Throughout the week, celebrities have chimed in with their support for Grande. Miley Cyrus dedicated an emotional performance on The Voice to the victims and Katy Perry broke down in the middle of a performance she dedicated to the victims.
If you can't attend the benefit concert on Sunday, here's how you can tune in from home.
Citations: Ariana Grande visits injured fans at Manchester hospital (CNN)