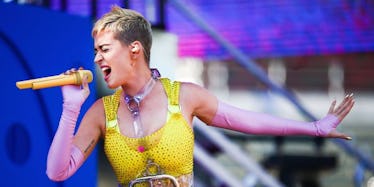 Katy Perry Breaks Down As She Dedicates Touching Performance To Manchester Victims
Rich Fury/Getty Images
Following the explosion that occurred at the Manchester Arena during an Ariana Grande concert on Monday evening, Katy Perry decided to dedicate a touching performance to the victims of the attack.
Police confirmed that the explosion, which is believed to be the result of a suicide bomb, killed 22 people and injured over 60 other individuals.
While playing in London, England, at The Water Rats venue for a Capital FM Radio event, Katy Perry paid a brief tribute to those killed or injured in the senseless attack, breaking down in tears as she spoke.
"This week has been really hard. It sucked. It was hard for you guys and it was hard for me because we all love music," Katy said. "We're all listening to the same music. And you think about it and think that's my friend, that's my sister, that's my cousin, that's my brother. It's awful. It's awful. It's awful."
At this point, Katy tearfully told her fans to do anything they possible can to give those affected by the attack the help they need.
And even if they aren't able to offer any help, Katy reassured her fans, "...that's fine. But what you should do is not let them win."
Of course, Katy is absolutely right. We can't let them win. Music is a unifying, emotional experience for everyone, and in her speech, she thoughtfully says, "They can never take that away from us. Ever."
After asking for a moment of silence for the victims, Katy simply ends with "rest in peace," before segueing into a performance of her song "Part of Me."
On the night of the bombing, Katy also tweeted that she was "broken hearted."
And Katy Perry isn't the only celeb to have spoken up following the horrific attack on innocent, young music fans. A number of celebs took to Twitter to express their heartache for all those affected by the violent explosion.
During an intimate concert in Mexico City, Harry Styles also asked concertgoers for a moment of silence to honor the Manchester victims.
Very soon after the attack, Ariana Grande tweeted that she was "broken."
She has also reportedly offered to pay for the funeral costs of those whose lives were taken in the explosion, though there's yet to be a confirmation from Grande. Elite Daily reached out to Ariana Grande's team for comment but did not hear back by time of publication.
In following Katy Perry's advice to help the victims of the Manchester attack in any way possible, there are ways you can offer your support to those in need.
But whatever we do, we should keep Katy's final piece of advice in mind and refuse to let those responsible for these acts of violence win.
Citations: WATCH: Katy Perry Pays Tribute To The Manchester Bombing Victims In Inspirational Speech (Capital FM), Katy Perry pays emotional tribute to Manchester victims at London show (Entertainment Weekly)