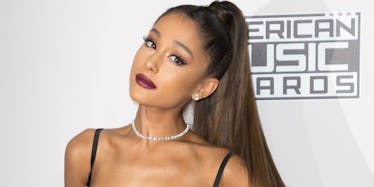 Here Are The Best Ways To Help Victims From Ariana Grande's Concert In Manchester
REX/Shutterstock
There are at least 22 fatalities and many injuries following the explosion at Ariana Grande's concert in Manchester last night.
The first victim to be identified is 18-year-old Georgina Callander. A source reportedly told the Evening Standard Callander died in the hospital with her mother by her side.
Elite Daily has reached out to Ariana Grande's team for more information, but did not hear back by the time of publication. Ariana Grande's rep confirmed to E! News, "Ariana is okay. We are further investigating what happened."
Grande tweeted about the attack last night saying, "broken. from the bottom of my heart, I am so so sorry. I don't have words."
The Manchester police released a statement about the attack as well as provided information about how people can help the victims of the night's events.
Chief Constable Ian Hopkins said in the statement,
This has been the most horrific incident we have had to face in Greater Manchester and one that we all hoped we would never see. Families and many young people were out to enjoy a concert at the Manchester Arena and have lost their lives. Our thoughts are with those 22 victims that we now know have died, the 59 people who have been injured and their loved ones. We continue to do all we can to support them. They are being treated at eight hospitals across Greater Manchester.
The fastest way to show your support for the victims and their families is to continue reposting photos of people who are still missing. Keeping their images circulated will hopefully help them be reunited with their families faster.
But make sure the information you're retweeting/posting is correct, as there are many tweets going around spreading false information about the attack.
The Manchester police have also set up emergency phone numbers people can contact if they're concerned or still looking for their loved ones. You can call 0161 856 9400 or 0161 856 9900.
If you live in or near Manchester and have space in your home to welcome in victims who need a safe space, you can tweet saying your home is open and include the #RoomForManchester hashtag.
Manchester residents have been tweeting with this hashtag throughout the night in the hopes that they'll be able to provide a safe space for any of the concertgoers who don't have a way back home yet.
If you don't live near Manchester and still want to help, there is now a donation page on Just Giving that is raising funds to help the victims.
The most important thing right now is reuniting the victims with their families and ensuring everyone's safety. Our thoughts and hearts are with everyone who has been affected by this tragic event.