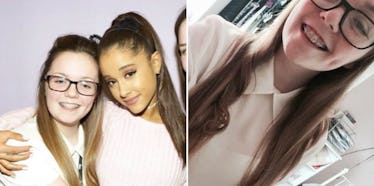 The First Victim From Ariana Grande's Manchester Concert Has Been Identified
Instagram
The first victim of the attack in Manchester at Ariana Grande's concert has been identified as 18-year-old Georgina Callander.
A source reportedly close to the family told the Evening Standard Callander died at the hospital with her mother by her side after the deadly attack that left at least 22 dead and many more injured.
Callander was a student studying health and social care at Runshaw College.
The school released the following statement:
It is with enormous sadness that it appears that one of the people who lost their lives in Monday's Manchester attack was one of our students here at Runshaw College... Our deepest sympathies, thoughts and prayers go out to all of Georgina's friends, family, and all of those affected by this loss.
On Sunday, just one day before the concert, Callander had tweeted at Ariana Grande, writing,
SO EXCITED TO SEE U TOMORROW
She also reportedly met the pop singer at a meet and greet at the same venue two years before.
Family, friends, and others have flooded social media to send their condolences and remember Callander.
"Once Upon A Time" actor Sean Maguire, who met Callander in April of this year, also sent well wishes to Callander and all the families of the victims.
A GoFundMe page was set up to help out the family in the wake of their horrific loss. The page says,
We would like to raise some money for Georgina Callander's family to help towards the funeral and memorial costs, and to give them time to greive. Gina was tragically killed in Manchester after an innocent night out watching Ariana Grande with friends. Rest in Peace. Her family are aware of and grateful for this page.
Callander is only the first to be named of the victims and there are many concertgoers who haven't been located by their families.
People have taken to social media to share photos and information that might help them locate their loved ones.
Monday night's attack is the worst terrorist attack in the history of Manchester, and the worst in Britain since 2005's attack on London's transit system.
In a televised statement, Prime Minister Theresa May said,
We now know that a single terrorist detonated his improvized explosive device near one of the exits of the venue, deliberately choosing the time and place to cause maximum carnage and to kill and injure indiscriminately.
Our thoughts and prayers are with all the victims and their families.
Citations: First victim of Manchester terror attack is named as girl, 18, who tweeted Ariana Grande hours before concert and told her: 'So excited to see you tomorrow' (Daily Mail)