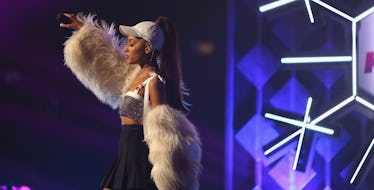 Here's How To Help Missing Ariana Grande Fans In Manchester
Tasos Katopodis/Getty Images for iHeart
At least 19 people have been killed and around 50 more are injured after reports of an explosion at an Ariana Grande concert in Manchester, United Kingdom on Monday night, Greater Manchester police reports.
UPDATE: Manchester police revealed Tuesday morning that at least 22 people are dead and about 60 injured after a lone bomber detonated an improvised explosive device outside an Ariana Grande concert in Manchester, England. The attacker is deceased and police believe he acted alone. According to CNN, authorities are investigating whether the attacker was part of a broader terror network.
Here's how you can help victims of the attack, which is the deadliest Britain has seen since the 2005 London bombing.
Grande was not injured at the concert and tweeted after the event: "broken. from the bottom of my heart, i am so so sorry. i don't have words."
EARLIER: According to NBC, officials say UK authorities suspect the explosion at Grande's concert could have been a suicide bombing. Police say they are treating the event as a terrorist incident "until police know otherwise."
Elite Daily has reached out to Ariana Grande's team for more information, but did not hear back by the time of publication. Ariana Grande's rep told E! News, "Ariana is okay. We are further investigating what happened."
NBC News reports there could have been as many as two loud explosions at the scene, according to multiple law enforcement sources. That has yet to be confirmed.
Fans and people in the Manchester area are taking to Twitter to help those affected. Here's how people are helping the Ariana Grande fans that are missing and those that have evacuated the Manchester Arena.
Retweet photos.
Someone who was at the arena may have seen a familiar face and be able to help quell fears of worrying family and friends.
Help fans find shelter nearby with the hashtag #roomformanchester.
People in the Manchester area are offering their apartments, beds, and sofas for any fans who don't have a way home or need shelter.
Check in on family and friends in the area with Facebook's option to mark yourself safe.
If you are in the Manchester area, make sure to mark yourself safe, too.
Greater Manchester police is setting up a phone number to call for those concerned about family members or friends.
Police are asking everyone to avoid the area of the Manchester Arena as first responders work at the scene.
Our thoughts and prayers are with those affected by this tragic incident.