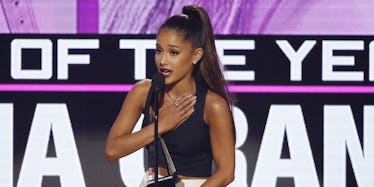 Taylor Swift, Kylie Jenner, And More Offer Love To Ariana Grande And Victims
REUTERS
The world watched in horror as news developed of an explosion at an Ariana Grande concert in Manchester, England on May 22.
Twenty-two people were killed in the suicide attack, and over 50 were injured.
One of the first victims of the crime has been identified. Eighteen-year-old Georgina Callander, who had tweeted several days ago about how excited she was to see the show, was a health and social care student at Runshaw College who died at the hospital with her mother by her side.
The events that unfolded were truly horrific and have left many — Ariana included — speechless.
The pop star took to Twitter to express her condolences, and she has reportedly suspended upcoming shows.
It wasn't long before celebrities — like Taylor Swift and Kendall Jenner — reached out to show their support for Ariana, the victims and their families.
Kendall sent her love and prayers...
...as did Taylor.
Miley Cyrus took to Instagram to share a photo with Ariana and a message about spreading love.
Like so many of us, Harry Styles is heartbroken over the tragedy...
...and Katy Perry shared the same sentiment.
Nicki Minaj said her "heart hurts..."
...and so did Khloé Kardashian.
Lorde said it's a performer's "worst nightmare."
Bruno Mars cannot get over the cruelty.
Shawn Mendes said it's not what music is about.
The outpouring of love and condolences — not only from celebrities — has been tremendous. Going to concerts was once an activity that people enjoyed, yet now, a large gathering of any kind is cause for concern.
It's horrible to think that such a gruesome attack was directed toward a large group of predominately young females who were just looking for a fun night of music.
According to a statement, Chief Constable Ian Hopkins said,
This has been the most horrific incident we have had to face in Greater Manchester and one that we all hoped we would never see.
He goes on to state that the victims are being treated in eight hospitals across the Manchester area. However, there are those who are still missing. By reposting photos of those attendees, hopefully they'll be located and reunited with their families faster because of efforts on social media.
More on the story is developing. Check back with Elite Daily for updated coverage.
Citations: