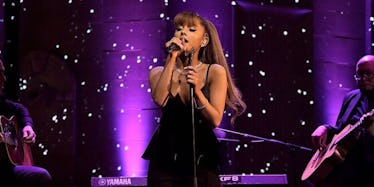 The Ariana Grande Explosion Targeted Women, And That's F-ed Up
Getty Images
Monday evening, an explosion rocked an Ariana Grande concert in Manchester, United Kingdom. Reports have at least 19 dead and 50 more injured, according to the Associated Press and the Greater Manchester Police.
UPDATE: Manchester police revealed Tuesday morning that at least 22 people are dead and about 60 injured after a lone bomber detonated an improvised explosive device outside an Ariana Grande concert in Manchester, England. The attacker is deceased and police believe he acted alone. According to CNN, authorities are investigating whether the attacker was part of a broader terror network.
Here's how you can help victims of the attack, which is the deadliest Britain has seen since the 2005 London bombing.
Grande was not injured at the concert and tweeted after the event: "broken. from the bottom of my heart, i am so so sorry. i don't have words."
EARLIER: The event has obviously led many to try and determine a cause. The UK authorities reportedly suspect a suicide bomber, which would raise many terrifying questions.
Who would be the targets of a suicide bombing at an Ariana Grande concert?
At a time when some people find taking to the internet to make jokes an appropriate response, it's difficult to have a real conversation about who the targets of Monday evening's attacks really were.
As we keep track of the number of victims this tragedy claimed, we must also seek a clearer explanation for why a pop artist so prominent among young women was targeted.
Many fans have taken to Twitter to discuss what should have been a safe space for young women
Many people are rightly outraged for what seems like far too many times that young people are preyed upon when they are most vulnerable and unsuspecting. A concert is meant to be a space for pure entertainment.
Some Twitter users are also commenting that Ariana Grande is an empowering artist for young women in a real and liberating way. To target her and to target the young people at her concert, many of whom are young women, seems like it could be an assault on that empowerment.
They believe it is an attack on young women...
Ariana Grande has made it clear that she supports and believes in a society in which love is love. She has been a big ally to both women and LGBT groups throughout her career.
At this time, details are still unfolding about the event, but there is definitely a lot of explaining to do when it comes to the targets of this explosion.