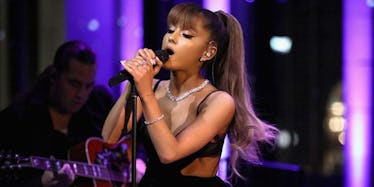 How To Pay Tribute To Ariana Grande Concert Victims On Facebook & Instagram
Getty Images
On Monday night at around 10:35 p.m. local time, Manchester police responded to calls of an explosion at the Manchester Arena toward the end of an Ariana Grande concert.
It's been reported by the Associated Press at least 19 people have been killed and 50 or more have been injured after the explosion was heard during the show. Police say the explosion took place outside the arena near the Manchester Victoria train station, according to NBC.
UPDATE: Manchester police revealed Tuesday morning that at least 22 people are dead and about 60 injured after a lone bomber detonated an improvised explosive device outside an Ariana Grande concert in Manchester, England. The attacker is deceased and police believe he acted alone. According to CNN, authorities are investigating whether the attacker was part of a broader terror network.
Here's how you can help victims of the attack, which is the deadliest Britain has seen since the 2005 London bombing.
Grande was not injured at the concert and tweeted after the event: "broken. from the bottom of my heart, i am so so sorry. i don't have words."
EARLIER: 
Officials say UK authorities suspect the eruption was a suicide bombing though that has yet to be confirmed at this time, and police say they are treating the explosion as a terror attack "until police know otherwise."
Elite Daily has reached out to Ariana Grande's team for more information, but did not hear back by the time of publication.
Although Ariana Grande is unharmed, many concert goers did not make it out of the Manchester Arena alive. People are using Instagram and Facebook to pay tribute to those lost during the concert.
Many fans are posting Instagram graphics of a ribbon with bunny ears that are similar to Ariana's.
Others are adding the caption "hoping for better days" near the ribbon.
Ariana has a song called "Better Days."
More tribute posts say #PrayForManchester.
If you wish to pay tribute to victims of the Ariana Grande concert, screenshot an image from above and post it on your feed.
You can also share the photos onto Facebook and use the hashtag #PrayForManchester or #PrayForArianators in the caption.
In fact, many people posted the light pink graphic with bunny ears onto Facebook with these captions already. More popular ones used on both social media outlets are #PrayForArianaGrande and #StayStrongArianator.
While many people are mourning online, others are using social media platforms like Twitter to help find concertgoers who went missing during the chaos.
Whether you're retweeting photos of missing fans or paying tribute to concert victims, social media is a helpful asset to the dreadful situation at hand.
#PrayForManchester.