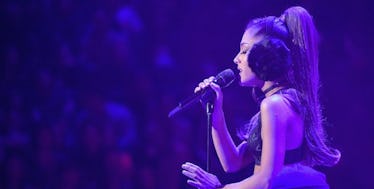 Ariana Grande Reportedly Suspends Tour After Manchester Attack
Nicholas Hunt/Getty Images for iHeart
Ariana Grande has reportedly suspended her tour for the time being after an explosion took the lives of 19 people at her concert in Manchester, England, TMZ reports.
UPDATE: Manchester police revealed Tuesday morning that at least 22 people are dead and about 60 injured after a lone bomber detonated an improvised explosive device outside an Ariana Grande concert in Manchester, England. The attacker is deceased and police believe he acted alone. According to CNN, authorities are investigating whether the attacker was part of a broader terror network.
Here's how you can help victims of the attack, which is the deadliest Britain has seen since the 2005 London bombing.
Grande was not injured at the concert and tweeted after the event: "broken. from the bottom of my heart, i am so so sorry. i don't have words."
EARLIER: The incident took place on Monday night at around 10:35 p.m. local time. About 50 people were also injured in the attack.
Fans and people in the Manchester area immediately took to Twitter after the attack to help loved ones find each other and offer their houses for shelter.
Elite Daily reached out to Ariana Grande's representative for comment but did not hear back at the time of publication. Ariana Grande's rep told E! News, "Ariana is okay. We are further investigating what happened."
Grande took to Twitter late Monday night to express her feelings on the devastating attack.
Her tweet read,
broken. from the bottom of my heart, i am so so sorry. i don't have words.
TMZ reports Grande is "in hysterics" over the incident.
Grande's next performance was slated to take place at the O2 Arena in London. TMZ reports the show is up in the air because it may be a safety threat and, as one source said, "She's in no condition to perform."
Her tour locations after London include Belgium, Poland, Germany, Switzerland, and France.
Ariana Grande's manager, Scooter Braun, released a statement of his own.
He said,
Tonight, our hearts are broken. Words cannot express our sorrow for the victims and families harmed in this senseless attack. We mourn the lives of children and loved ones taken by this cowardly act. We are thankful for the selfless service tonight of Manchester's first responders who rushed towards danger to help save lives. We ask all of you to hold the victims, their families, and all those affected in your hearts and prayers.
Only time will tell if Grande will continue her tour for her thousands of fans.
Our hearts go out to the victims of this senseless violence.