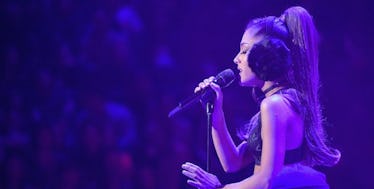 These Ariana Grande Lyrics Are Resonating With Fans Right Now
Nicholas Hunt/Getty Images for iHeart
On Monday night at around 10:35 p.m. local time (5:35 p.m. ET), Manchester police responded to calls about an explosion at the Manchester Arena during an Ariana Grande concert.
According to the Greater Manchester police, 19 fatalities have been confirmed, along with approximately 50 other people injured.
UPDATE: Manchester police revealed Tuesday morning that at least 22 people are dead and about 60 injured after a lone bomber detonated an improvised explosive device outside an Ariana Grande concert in Manchester, England. The attacker is deceased and police believe he acted alone. According to CNN, authorities are investigating whether the attacker was part of a broader terror network.
Here's how you can help victims of the attack, which is the deadliest Britain has seen since the 2005 London bombing.
Grande was not injured at the concert and tweeted after the event: "broken. from the bottom of my heart, i am so so sorry. i don't have words."
EARLIER: The GM police also tweeted out the following statement:
Elite Daily has reached out to Ariana Grande's team for more information, but did not hear back by the time of publication.
Since learning about the incident, Ariana Grande fans have taken to Twitter to express how devastated they are for those killed or injured during the concert:
And it seems some of Ariana's lyrics have really resonated with her fans following this horrifying incident.
Many fans are currently tweeting variations of "hoping for better days," which are lyrics from "Better Days," a song by Victoria Monet, on which Grande is featured.
The lyrics to the chorus Grande and Monet sing together in the song read,
Hoping for better days, better days Days where things are better
Ariana's solo verse in "Better Days" can also be applied to this tragic incident, and fans have begun tweeting those specific lines as well.
In it, Grande sings,
So how we gonna stop the violence, stop the hurting? Stop the hatred, stop the murders We're all human, that's for certain Come together, we deserve it What kind of life will our babies have if we don't change up and make it last? It starts right here, starts right now We'll love and hope for...
Thankfully, Ariana Grande's rep confirmed to E! News, "Ariana is okay. We are further investigating what happened."
NBC News reports a number of U.S. officials say that the UK police suspect the concert explosion might have been the result of a suicide bomb. Currently, Manchester police are treating the explosion as a "terrorist incident until police know otherwise."
Our thoughts are with all the victims of tonight's tragedy, as well as their loved ones. And it goes without saying that, especially in times like these, we all certainly hope for "better days."