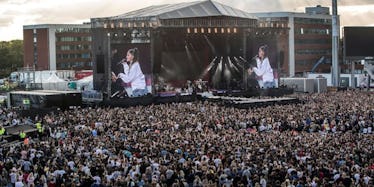 Ariana Grande's Manchester Concert Raised An Insane Amount Of Money For Victims
Danny Lawson for One Love Manchester - WPA Pool/Getty Images
This past Sunday, Ariana Grande joined forces with many iconic performers to create the One Love Manchester benefit concert, a performance designed to raise money for and honor those affected by the horrific terror attack that took place at her concert on May 22.
All proceeds went to the We Love Manchester Emergency Fund, as coordinated by the British Red Cross and Manchester City Council. Additionally, those who attended the initial concert were let in free of charge.
And let me tell you, this concert raised. some. money.
According to Elle, the Red Cross had already raised about 9.4 million in USD, 7.3 million in GBP before the performance even started.
By the end of the magical night, that number was raised substantially.
The British Red Cross tweeted that 2.35 million GBP (or a whopping 3 million USD), had been accumulated throughout the performance, bringing the total to a staggering 12.4 million dollars.
Additionally, more than 22K people donated more than $440K through Facebook Live's airing of the Manchester concert.
The night itself was full of incredible moments, from a heartwarming duet between Grande and her beau Mac Miller, to social media finding this amazing video of a police officer dancing and laughing with children.
Additional performances included a duet between Ariana and her good friend Miley Cyrus, singing "Don't Dream It's Over", and Katy Perry rocking out in a tribute outfit displaying photos of the victims of the attack on her back and collar.
Everyone noted how particularly brave and strong Ariana was throughout the entire concert, ending with an emotional rendition of "Somewhere Over The Rainbow" that left audience members and Grande herself in tears.
In a previous statement on Twitter regarding the concert, Ariana said,
I want to thank my fellow musicians and friends for reaching out to be a part of our expression of love for Manchester... ...We will continue in honor of the ones we lost, their loved ones, my fans and all affected by this tragedy.
Ultimately, the night proved to be a beautiful display of love, support, and the power of music.
Citations: Ariana Grande's #OneLoveManchester Concert Raised $3 Million (Elle)