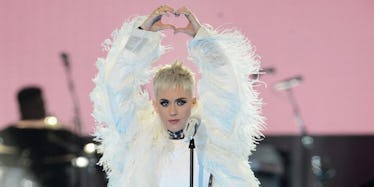 Katy Perry's Outfit At The Manchester Concert Honored Victims In A Special Way
Getty Images/Dave Hogan for One Love Manchester
Sunday night's One Love Manchester concert was emotional -- and beautiful.
Headlined by Ariana Grande, the evening also included performances by the Black Eyed Peas, Justin Bieber, Pharrell, Coldplay, and more, with all proceeds going to benefit the victims and the families affected by the deadly attack at Grande's Manchester concert on May 22.
Katy Perry also took the stage for a two-song set and honored the victims in more ways than one.
She reportedly told the crowd,
I'm so honored and humbled to be here tonight to share and spread love. Love conquers fear, and love conquers hate, and this love that we choose will give you strength, and it's our greatest power.
Perry sang an incredibly powerful acoustic version of "Part of Me" along with her signature anthem "Roar." It wasn't just her words and music, though, that sent a message.
The 32-year-old wore a white dress with photographs of the victims of the attack printed on the back and around the collar.
The singer also tweeted, "You are so beautiful and brave #OneLoveManchester."
After the horrific attack last month, Perry immediately took to Twitter to express her heartbreak.
A few days later, she dedicated a special performance of "Part of Me" to the victims while playing in London, England, at The Water Rats venue for a Capital FM Radio event.
The music community has been particularly vocal about standing up to hate and coming together to spread love in the wake of the horrific attack that left 22 dead and dozens injured, and the One Love Manchester benefit concert was an incredible show of support.
Over $2.6 million in donations was reportedly raised for the We Love Manchester Emergency Fund in the three-hour span of the concert, adding to the previously raised $12.9 million.
Sunday evening's concert included several moments that brought audience members and those watching around the world to tears.
Ariana Grande, who fought back tears for much of the show, sang moving duets with her friend Miley Cyrus and boyfriend Mac Miller.
The 23-year-old then closed out the show with a beautiful rendition of "Somewhere Over The Rainbow."
Citations: 'One Love Manchester' Raises $2.6 Million in Donations in Three Hours (Variety)