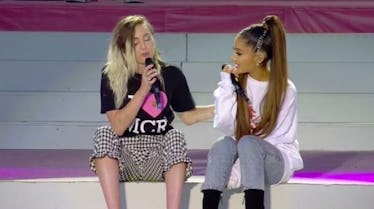 Ariana Grande And Miley Cyrus Sang A Duet At Manchester And Gave Fans All The Feels
Twitter Live
Ariana Grande might have served up peak relationship goals during her performance with boyfriend (and maybe, fiancé?), Mac Miller — but fans also can't stop gushing over the friendship between her and fellow pop singer, Miley Cyrus.
She and Cyrus turned the world into a bucket of tears as they performed an emotional duet of "Don't Dream It's Over" by the Australian band, Crowded House.
Grande and Cyrus had previously performed the song for Miley Cyrus' Happy Hippie Foundation backyard sessions, which is an organization Cyrus created to fight homelessness of the youth.
Cyrus had already mentioned — during her first performance on the One Love Manchester stage — that singing this song was one of the founding moments of her friendship with Grande.
She said,
Ariana is the first person who said yes to help me for the Happy Hippie movement I wanted to create.
This time, the pair sat on the steps and took turns singing the empowering song for the Manchester crowd. As fans sang along with them, they exchanged hugs and held hands.
They eventually split up and took to opposite sides of the stage to cater to fans, only to meet up for more girlfriend hugs towards the end.
Fans cannot get enough of this friendship duo.
People are also demanding an official version of the two singing "Don't Dream It's Over."
This is certainly not a bad idea since both stars sound like complete angels singing the record.
Cyrus and Grande not only helped to bring more love to the Manchester community with their music, but also showed what love is when it's played out amongst friends who are determined to be there for each other through anything.
Before Miley Cyrus left the stage, she shared with Ariana Grande,
You've always been there for me, I'm happy to be here for you.
Sigh. Someone should have really warned us that we'd need this many tissues to get through this benefit concert.