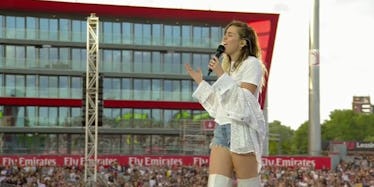 Miley Cyrus Dedicates "Inspired" To Manchester Victims With A Speech That Will Make You Cry
Twitter Live
Miley Cyrus just graced the One Love Manchester stage to perform a few empowering songs in honor of the victims the Manchester bombing and we're crying real tears.
Singer, Pharrell Williams, first brought the singer out to perform his hit anthem, "Happy". The two danced and sang all over the stage with huge smiles and energy that matched the excited crowd.
After doing their "Happy" dance, Williams exited the stage and Miley Cyrus delivered a beautiful speech, gushing over the strength of the concert attendees and Ariana Grande.
She said,
I'd like to wrap my arms around each and everyone one of you and tell you "thank you" from the bottom of our hearts. On behalf of all the artists here, I want to say thank you. For me, the most important responsibility we have on this entire planet is to take care of one another and look what we're doing today and how amazing that is.
Miley Cyrus also talked about being happy to help Ariana Grande honor the Manchester bombing victims, since Grande was always so willing to help with her "Happy Hippie" foundation, an effort Cyrus created to help homeless youth.
She said,
Ariana, I wish she was out here so I could give her a big hug. That's how her and I became close as we are now. She was the first artist to say yes, that she would be a part of the movement I wanted to create. We should always be who we say we are. She is a good role model for some of you girls right now.
Cyrus then dedicated her new song, "Inspired", to the victims of the Manchester bombing as fans continued to scream and cry.
Kudos to Miley Cyrus for helping her friend contribute to a moment of joy and music for the people of Manchester who are still mourning the loss of their loved ones.