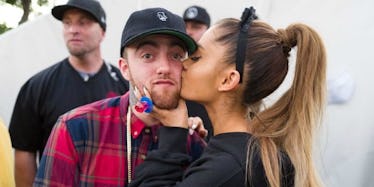 Fans Think Ariana Grande Is Engaged Because Of Tiny Detail At Manchester Concert
REX/Shutterstock
Ariana Grande sported a a pretty grande ring while she performed during the Manchester benefit concert on Sunday, and it has fans wondering if she and her rapper-boyfriend, Mac Miller, are planning to tie the knot.
The pair performed "The Way" and "Dang!" during the One Love Manchester show and while Grande held up her microphone, fans couldn't ignore the sparkle on her left hand.
Engagement rumors began circulating back in January when Ariana Grande began sporting a ring while she prepped for her Dangerous Woman tour.
Grande never made an official comment on the engagement theories. Elite Daily also reached out to Ariana Grande and Mac Miller's representatives for comment and has not yet received a response.
Mac Miller has made it very clear that he doesn't want their relationship to turn into a publicity stunt.
He said in a Vogue Interview,
My main thing is that my life is going to continue to be my life. I think that I'm not going to get involved in it. It's there, cool. But we're low-key. If we're going to go to dinner, we're going to go to dinner. And let the world speak, say whatever. That stuff is just its own thing. It's different for me, but it has nothing to do with us, it's its own separate thing.
Ariana Grande hasn't made many statements about her romance either, but did open up about her love in a Cosmopolitan interview.
She talked about them dragging their feet on an official commitment saying,
We weren't ready at all, though, to be together. It's just timing. We both needed to experience some things, but the love has been there the whole time. There were times over the years when he would call me and hear that I was stressed or overwhelmed or not doing well, and he would call my mom. There were also times when he was really broken and sad—this was years ago—and I would come take care of him, because we love each other as best friends first and foremost.
So, what say you? Will this low-key couple finally going to take a huge leap by walking down the aisle?
Only time will tell and if they do, no doubt fans will be gushing.