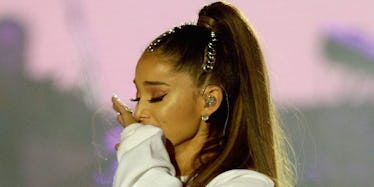 13 Pics Of Ariana Grande's 'One Love Manchester' Concert That Will Move You To Tears
Getty Images/Dave Hogan for One Love Manchester
Ariana Grande's One Love Manchester benefit concert was an incredibly moving event that has everyone talking, donating, and sharing messages of love and hope today.
One week ago, a deadly attack killed 22 people and wounded dozens more at Grande's show at Manchester Arena. Led by the 23-year-old Dangerous Woman singer, Sunday night's star-studded event raised money to benefit the victims and the families affected.
Performances by the Black Eyed Peas, Miley Cyrus, Justin Bieber, Coldplay, Katy Perry, and more were live-streamed around the globe. The artists and the audience shed tears throughout the night, along with empowering words and a lot of hugs.
Here are some of the most powerful moments caught on camera. Fair warning: They're going to move you to tears.
1. Ariana Grande got emotional and choked back tears throughout the evening.
Even Piers Morgan, who criticized the 23-year-old in the wake of the attack, had nothing but kind things to say about Grande.
In fact, he issued a complete apology to the singer and praised her efforts.
2. Grande joined the Black Eyed Peas for a powerful performance of "Where Is The Love?"
3. She later joined fellow pop star and friend Miley Cyrus on stage for an emotional duet of "Don't Dream It's Over."
They couldn't stop hugging.
4. One of the most special performances of the night came from the Parrs Wood High School choir, who joined Grande to sing "My Everything."
Grande went over to comfort one of the young girls who was singing, sharing a sweet moment and a tear-jerking hug.
Some of the members of the choir had been at the concert on May 22 when the attack took place.
5. Grande's boyfriend, Mac Miller, also took the stage. After the two performed together, they shared a sweet moment.
6. Justin Bieber got choked up as he urged the crowd to raise their hands in honor of the victims of the attack.
8. The images of the audience will move you to tears, too.
9. Throughout the night, fans held up hearts as they cheered, sang, and cried along with the musicians.
10. Outside the concert, fans posed with Counter Terrorism Officers and police.
11. This now-viral moment came as an officer joined hands with children and skipped around in a circle to the music.
12. Grande closed out the show with a beautiful cover of "Somewhere Over The Rainbow," and the audience could not hold back their raw emotion.
The strong sense of unity from the people of Manchester and all who were involved with the benefit concert is incredibly heartwarming to see in light of all the recent violence.