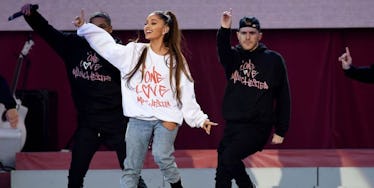 People Can't Stop Talking About This Moment From Ariana Grande's Manchester Concert
Getty Images/Dave Hogan
The One Love Manchester benefit concert was held this Sunday, June 4, and had incredible performers like Miley Cyrus, Justin Bieber, Katy Perry and Ariana Grande herself.
The concert was designed to honor those affected by the terrible attack and explosion that went off at Grande's May 22 performance, and all proceeds went to the We Love Manchester Emergency Fund, as coordinated by the British Red Cross and Manchester City Council.
With all the amazing performances that occurred on stage, there is one specific moment people can't stop talking about.
A video is being spread of a police officer dancing in a circle with young children, holding hands and laughing.
The video has moved many people on social media, who say it embodies the resilience and defiance of London and Manchester, as stated by Mashable, during such extreme and tragic times.
Other touching moments included a duet between Miley Cyrus and Pharrell singing "Happy," Katy Perry rocking a beautiful symbolic outfit, and Ariana herself singing a touching rendition of "Somewhere Over The Rainbow," which closed out the concert.
A noticeably emotional Grande took to the stage to sing a gorgeous five minute rendition of the iconic song, holding it together until the very end before displaying tears.
Blowing kisses and saying, "I love you" into the mic, Grande finished her song and quickly exited the stage, thanking and bowing to her audience.
Emotional moments like Ariana's performance and the dancing police officer were just two of many throughout the evening, with many more memories being created on social media.
The atmosphere was joyful, emotional and so, so supportive.
Additionally, it is reported that over 2.6 million dollars in donations were raised in the three-hour span of the concert, creating a total of roughly 15.5 million dollars all said and done.
Elite Daily continues to send support and love to all those affected.
Citations: Policeman dancing with children at Ariana Grande concert becomes symbol of resilience (Mashable), Ariana Grande Manchester Concert (Elle)