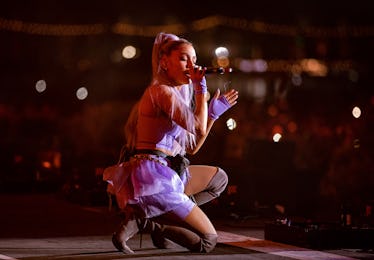 Ariana Grande Opened The BBMAs With An Epic Performance & You Need To See It
Christopher Polk/Getty Images Entertainment/Getty Images
Ariana Grande is making serious waves in the music industry right now. At just 25-year-old, she's been hailed one of the greatest voices of her generation. On top of all that, the singer is essentially a hit-making machine, and her latest single "No Tears Left to Cry" is really giving audiences something to dance to and talk about. And now, Ariana Grande's 2018 Billboard Music Awards performance of the song has turned even more heads.
As Grande took the stage, she was sprawled out across a sea of black umbrellas and literally sang her heart out. She looked amazing in a black dress, boots, and a huge black bow in her hair.
Her backup dancers used the umbrellas from the beginning of the performance as props and the choreography was pretty amazing. The whole performance mixed a beautifully classic sense of style (Grande and her dancers all donned more formal attire) with a very upbeat and modern song. It had an Old Hollywood kind of feel to it, which was awesome.
As usual, Grande was also very high energy throughout the performance. Even Taylor Swift and Camila Cabello were jamming from their seats in the audience. People were clearly loving what she was doing!
Overall, the performance was really nicely done and was a super exciting way to open the show. Couldn't ask for a better opener for the BBMAs.
Grande's dedicated fans, of course, were in love with her performance and they said as much on social media!
Here's what fans are saying about it on Twitter:
The performance is most definitely a highlight for Grande, who has undergone a rough year. Grande spent much of last year enjoying incredible success with her Dangerous Woman tour. But the tour, unfortunately, was cut short by tragedy. In May 2017, a terrorist bombed her Manchester Arena concert, which led to Grande canceling the rest of the tour.
Later on in June 2017, Grande gave a massive concert called One Love Manchester to support and raise money for the victims of the attack.
Here's a look at her moving Manchester performance:
Given all of that, Grande took some time off to heal, to regroup, and to make even more music. She came back stronger than ever in April 2018 with "No Tears Left to Cry." But that wasn't the end of Grande's bad news.
In early May 2018, Grande announced that she and longtime boyfriend, Mac Miller, had broken up. In a heartfelt message posted to her Instagram story, Grande waxed poetic about her love for Miller in spite of their split:
Hi! This is one of my best friends in the whole world and favorite people on the planet Malcolm McCormick. I respect and adore him endlessly and am grateful to have him in my life in any form, at all times regardless of how our relationship changes or what the universe holds for each of us! Unconditional love is not selfish. It is wanting the best for that person even if at the moment, it's not you. I can't wait to know you and support you forever and I'm so proud of you!!
So, obviously, Grande has been going through some difficult things in recent months. But her performance at the 2018 Billboard Music Awards didn't show it at all.
She was 100 percent at the top of her game. No wonder she was chosen to open the show. She was electric on stage and just so, so moving. The audience was clearly into what she was dishing out and there's no doubt her fans all over the world were going wild.
She's a talented one, for sure!