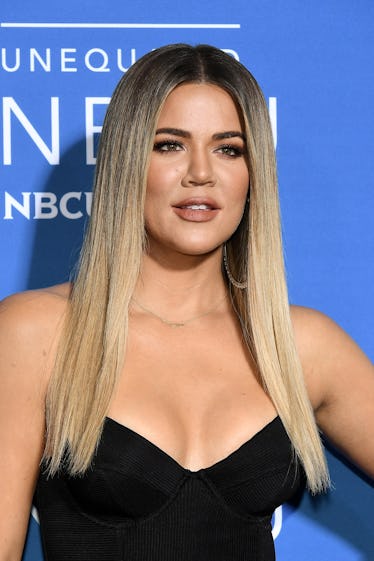 Khloé Kardashian Just Made A Major Hair Change & It Honestly Looks So Fierce
Dia Dipasupil/Getty Images Entertainment/Getty Images
Khloé Kardashian got a new haircut and it's definitely going to make you want to get one, too! While the Keeping Up with the Kardashians star has been sporting some longer locks as of late, she's made the bold choice to chop much of it off. And now she's showing off a new bob. I guess long hair and motherhood aren't mixing so well for this Kardashian. Whatever prompted the new mom to try such a bold cut, one thing's for certain: Khloé Kardashian's new blunt bob is probably going to be the look of the summer.
Kardashian posted a photo of her new look on Instagram and it genuinely looks amazing. In the photo, which was posted on Thursday, July 26, Kardashian is looking at the camera dead-on and showing a bob that sits right at the collarbone. At first glance, her new haircut almost looks like an angled bob, but that's probably due to the way she's tilting her head and positioning the camera.
In any case, Kardashian looks great as always. And her new look is definitely fresh and makes her seem ready for the hot (and often icky) summer weather.
Here's the photo she shared on her Instagram:
"'Not smiling makes me smile' Kanye," Kardashian captioned the photo.
According to Marie Claire, Kardashian's new haircut is all thanks to Justine Marjan, who also posted the same photo to her Instagram. Marjan spoke to Marie Claire about Kardashian's new look:
"We've been talking about going short for months, but she wanted to test it out today before going for the plunge. I braided her hair up, then cut the extensions blunt," Marjan revealed. "Her top layer of hair was short enough to conceal the clips, so she could test-drive the length for the day."
Judging by the photo she shared, it looks like Kardashian is loving it already!
But that isn't the only photo Kardashian posted of her new look. She also shared a photo of herself and her grandmother, Mary Jo Campbell, AKA MJ. Since July 26 is MJ's birthday, Kardashian took the opportunity to send her well wishes.
"Happy Birthday my sweet MJ!! 💜," Kardashian captioned the photo with her grandmother.
In this photo, too, you can see Kardashian dressed in white and flaunting her new blunt bob. The new hair really suits Kardashian. MJ actually has a bit of a bob going on as well, though not as long as Kardashian's. So, they're sort of twinning, but probably unintentionally so!
Kardashian also shared a photo of her daughter True, albeit an old one (because it's TBT!). In the photo, True is nodding off during a nap, but looking so sweet doing it.
In the caption for the post, Kardashian said this pic was taken a while ago.
"About 2 months ago... 😩," she wrote.
And that just proves how quickly little True, who is almost four months old, is growing. Motherhood seems to be treating Kardashian really well. Both she and True are looking so happy and healthy!