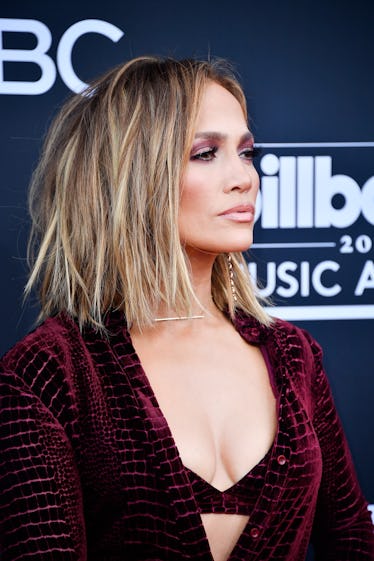 Jennifer Lopez Just Debuted A Badass New Hairstyle That'll Make Your Jaw Drop
Frazer Harrison/Getty Images Entertainment/Getty Images
Summer is the perfect time to play around with new hairstyles, and an undeniable favorite of the warmer months is definitely a good braid. Super easy to master, plaiting not only looks great on almost everyone, but also makes it simple for you to just get up and go. Many celebrities have long been loving the look, but most recently, Jennifer Lopez's new long braid made me do a double take.
Celebrity hairstylist Chris Appleton — who's worked with the likes of Ariana Grande, Christina Aguilera, and Rita Ora — created the look for Lopez, and my goodness, it is stunning. With her hair completely slicked back, the braid starts with a ponytail a bit below the crown of her head and appears to literally end at her ankles while she's sitting down. Appleton posted a photo of the extravagant hairstyle to his Instagram page on Sunday, July 15, with the caption, "Can not wait for your guys to see what we worked on last night ..... This GLAM @jlo." While both the hairstylist and the World of Dance judge have stayed mum on the details of the upcoming project, for now, my guess is that it's for a music video. Of course, we'll have to wait and see.
J.Lo fans appear to be loving the look and praised Appleton's artistry in the comments. "I'd be whipping this thing around like there's no tomorrow," one person said. "That's one hell of a power pony!" added another. But some wanted to see more: "Love it @jlo," one user shared. "But I would of put more hair on that braid Hunny to skinny for me!!!"
This isn't the first time Lopez has worked with the stylist to create some epic braids. Back in December, Appleton posted a photo of the performer wearing a volumized, but much shorter, sky-high braid. For this style, he went for a more "wet" look and had the star's baby hairs slicked down to perfection.
Of course, Appleton is known for creating some luxurious hairstyles. But what's his secret for making them last through a red carpet or anything else celebs may be up to? His trick involves keeping the humidity out. "I think a good way to keep your hair tamed and in place would probably be to use an anti-humidity spray," he told Hello Giggles back in September 2017. "The Dream Coat from Color Wow is great, because it prevents your hair from absorbing moisture and frizz, and keeps it smooth. That's my go-to product, just spray your hair with Dream Coat and dry it."
He also shared his secret weapon for getting the perfect slicked-back pony, like J.Lo's rocking in both of the above styles. "I use Gorilla Snot, which is a gel," he said. "I love that! If you've got a ponytail and you want it snatched, just put it all over the edges and it makes it really solid. Makes it old school."
As for J.Lo and her braid of epic lengths, we'll have to stay tuned to see where else it shows up. But for now, I'm tempted to get some extensions to try it out myself!