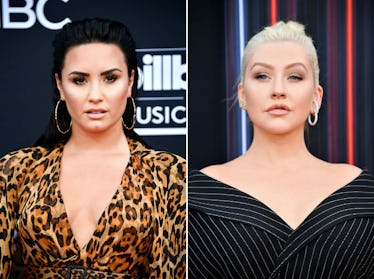 Christina Aguilera & Demi Lovato Slayed The BBMAs With Their "Fall In Line" Performance
Frazer Harrison/Getty Images Entertainment/Getty Images | Frazer Harrison/Getty Images Entertainment/Getty Images
The entertainment industry is all about girl power right now. So many strong female vocalists are in the spotlight, but none so strong as Demi Lovato and Christina Aguilera. Both of these talented ladies have been making headlines lately with new music and a strong message to young girls everywhere. And they took all of that girl power to the stage tonight. Demi Lovato and Christina Aguilera's 2018 Billboard Music Awards performance was nothing short of amazing.
Lovato and Aguilera performed their song "Fall in Line," an empowering collaboration that speaks to the strengths and struggles of girls and women all over the world.
The performance started off with an introduction by Kelly Clarkson. Then, Aguilera took the stage in a long leather trench coat with a slew of backup dancers. She sent a powerful message about showing girls how to own their own power. Lovato entered the stage in the very same way as Aguilera was carted off by a few backup dancers.
The two powerhouses sang their hearts out about what seems to be an issue close to their hearts. Toward the end of the performance, a screen behind them showed footage of young girls being happy and carefree. Meanwhile, Aguilera and Lovato came together in a moment of true showmanship and passion.
They killed it, basically. And their vocals were incredible, as always. It's the kind of collaboration that I didn't even know I needed. I'm sure Lovato and Aguilera fans everywhere feel the exact same way!
Here's how some fans reacted to Aguilera and Lovato's performance together:
Some people on social media saw it as a rite of passage for Lovato to sing with a legend like Aguilera:
One thing was clear during the performance: it was an emotional moment for both Lovato and Aguilera. It was emotional for fans, too:
The consensus seems to be that Aguilera and Lovato crushed the whole thing! I am inclined to agree.
"Fall in Line" premiered on Wednesday, May 16, and is said to be included on the track list for Aguilera's forthcoming album Liberation. Aguilera's new album isn't due out until the middle of June, but it's already seen some mild success with the release of several tracks, including the Lovato collaboration.
Ahead of the song's release on Wednesday, Lovato and Aguilera shared a few lines from the song via Twitter:
Little girls/Listen closely 'cause no one told me/But you deserve to know/That in this world/You are not beholden/ You do not owe them/ Your body and your soul
The tweets were accompanied by photos of Lovato and Aguilera as little girls, which offered a bit of insight into the sentiment behind the song.
Here's a look at Aguilera's tweet:
Which mirrored Lovato's:
They were both adorable! And I love how they're totally on the same page when it comes to their messaging. Obviously, they work really well together and their performance at the 2018 Billboard Music Awards more than proved that.
As far as the song goes, it seems that they're talking to themselves as young girls as much as they are talking to the girls in their respective audiences.
With so much going on in the world and in the entertainment industry, this is a really important message that so many young people need to hear.
Both Lovato and Aguilera have been vocal throughout their careers when it comes to standing up for themselves and other women. While Aguilera is all about female empowerment, Lovato is frequently speaking up about sobriety. So, they're both perfect for this kind of collaboration. A match made in pop diva heaven!