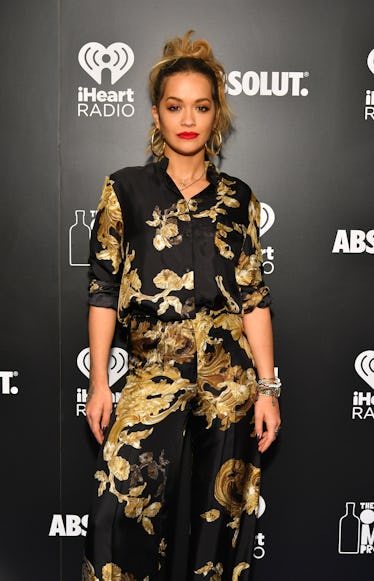 Rita Ora Opens Up About Her New Album & This One Song Will Destroy You — EXCLUSIVE
Dia Dipasupil/Getty Images Entertainment/Getty Images
Look, guys, I'm calling it now: 2018 will be the year of Rita Ora. The 27-year-old "Your Song" singer has a stacked schedule ahead of her, releasing a new record in March 2018 and going on tour in May. It's been five years since Ora's debut album, Ora, so fans are eager to hear new tunes from the singer. Although we still don't know the name of Rita Ora's new album, we do know what fans can expect from the emotional tracks, and how her second record will be her most personal and powerful yet.
When asked about her comeback and what it's like to have fans who have supported her along the way, Ora tells Elite Daily, "It's so reassuring because it's like, it's a situation where you kind of don't know what to expect, you can't control it, you don't know what people's vibe is or opinion is, you just have to do what's right for you."
Ora's second album will be her first global release record, which "feels weird" for the singer because it will be her first album out in America. However, due to the support of her fans and other artists, she feels confident about the release: "I'm gonna make real, authentic music and I'm just gonna sing my ass off because I love singing." She adds, "I was speaking to Sam Smith the other day and he just said to me, 'You've got one of the best voices and I'm so happy for you,' and it was nice to get that support from other artists, you know, of them saying we know you're in a really good, confident music groove."
According to the star, her album will be "full of laughter and honesty," which sounds like heaven, to be honest. Ora was able to collaborate with other artists, including Julia Michaels and Chris Martin, and explains "the process was cool because it was a revolving door of talent."
Specifically, fans should look forward to "Soul Survivor," the opening song of the album. While discussing the meaning behind the song, Ora says, "It's all based on what people stopped me from doing a few years ago to where I am now, and it's almost like a rebirth of the new Rita." She continues, "It's a nice final goodbye to everything and everyone who didn't believe in me from the start."
What's interesting about the album is that all of the songs are connected and tell a "consistent story." Ora explains, "I thought about it a lot and I just wanted people to feel like they were on a journey with me, so I'm really proud of it."
According to Ora, the songs will focus on her personal life and past relationships. However, she clarifies "it's never about anyone in specific" and the record is more about her journey overcoming obstacles and "moving forward."
In November 2017, Ora told The Sun "the core of [her] record" would be "pure frustration and passion." When asked to elaborate on weaving together these two emotions, Ora tells Elite Daily, "I feel like they're kind of similar, frustration and passion, because you have to be passionate about something you love, which gets you really frustrated... I'm a bit of a perfectionist and a workaholic, where you just wanna achieve the best and do the best job. I just tuned into that personality ... [I took] this anger and frustration and put it into something great."
Although her new music will tap into deep and raw emotions, the message will be pretty straight-forward. "This album is really calm and it has really clear points," she says. "There aren't mixed messages, it just is what it is."
Another song off the album that will garner fans' attention is "Proud." Ora's new song will be inspired by stories of acceptance from fans as part of The Open Mic Project. As part of the campaign, Ora partnered with Absolut to create "a platform for amplifying and uniting the voices of people across the nation to spark a much-needed change in today's conversation."
Ora shares, "Other people's acceptances are the core focus of the song. It's a very powerful message for sure." Ora herself was a refugee from Kosovo, and her family was forced to flee the country when she was just a little girl. Ora says she relates to the song's message of acceptance and "having that scrutiny of sometimes being misunderstood." She explains, "It really hits you heavy because you're one person against so many, and you really have to take a step out of the situation and count your blessings about what you do and what you love." Ultimately, Ora says she wants the project to "shine a light" on people who don't have a voice or struggled to gain acceptance from friends, family, and the world around them.
"Proud" will be released during the 60th Grammy Awards, and Ora's second album will hit stores in March 2018. In the meantime, Ora is focusing on taking time to relax during the holidays and "appreciate the quiet times" amidst her busy schedule. In fact, she created a special cocktail called "Spa Day" to help. "I love a spa and also I feel like everyone deserves a nice little beverage when they get a massage." She laughs, "And vodka has always been my go-to... it's an [all around] year thing."
In case you need a little inspo for your holiday party, here's the recipe for Spa Day, courtesy of Absolut:
Glass: Highball
Ingredients:
1 pt Absolut Original
1 pt Lillet Rose
.5 pt fresh lime
1 strawberry, cut into slices
Cucumber Soda
Mint bouquet
Lime wedge
Prep:
Place strawberry slices in the bottom of the glass, add ice
Build remaining ingredients on top
Add mint bouquet and lime wedge to garnish
We can't wait to see what the new year has in store for this powerhouse. Thanks for chatting, Rita!