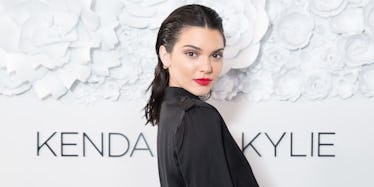 Kendall Jenner Stands By A $3 Drugstore Shampoo For Super Shiny, Soft Hair
REX/Shutterstock
For better or worse, sisters always know best. Or, at least they think they do.
As a younger sibling, you assume those five years your sister existed on Earth without you were somehow incredibly meaningful.
In reality, she probably spent those years learning to eat Cheerios and chattering to herself in a private language, but that's not how it feels.
So, when it comes to beauty, it only makes sense you'd listen to your sisters. Obviously, they had all this time to learn about applying lipstick correctly before you even existed.
In a new interview with Allure, model Kendall Jenner reveals she turns to every single one of her sisters (that's Kourtney, Kim, Khloé and Kylie) for beauty tricks.
According to Kendall, big sis Kim taught her the most important trick of all: the value of a dollar.
Apparently, Kim sticks to Finesse shampoo to achieve her shiniest locks. A bottle will run you a little less than $3 at your local drugstore.
All this from the woman who reportedly once flew to Paris to cure a pregnancy craving? Shocking.
Kendall told Allure,
It just works for my hair and makes it so silky. My hair has held up so much that every hairstylist has been like, 'Why is your hair still so amazing?'
For a woman who changes hair colors and styles as frequently as Kendall (not to mention all that heat styling), keeping strands soft has to be a challenge.
Plus, trying a $3 bottle of shampoo and finding out you don't like it is far less of a gamble than grabbing a bottle off any random shelf in Sephora and handing over your monthly rent check in exchange for it.
Wondering what else the glam sisters have passed on to Kendall? From Khloé, she's learned a serious appreciation for eyebrows that look as if they might be feral.
Kourtney, the den mother of the family, believes in never touching your facial skin or ripping apart pimples.
And from Kylie, Kendall's only gotten a healthy fear of wearing too much makeup on her face. That's my phrasing, by the way. Kendall actually says Kylie believes "more is more."
Beauty aside, it's nice the sisters still bond over normal-person activities. You know, like telling your sister the way she wears her eyeliner is weird.
When it comes to family, nitpicking and unsolicited advice are both signs of love.