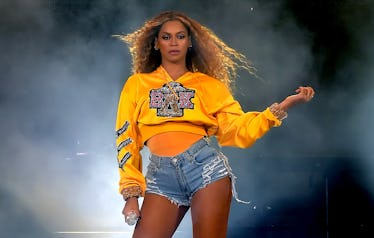 Beyonce's Hair Stylist Just Spilled The Tea On Bey's Strands & You're Going To Want A Sip
Kevin Winter/Getty Images Entertainment/Getty Images
Almost as famous as Beyoncé the person is the singer's hair. Bey's fashion and beauty are always on point but that hair, it likes to steal the show, sometimes literally. Beyonce's hair stylist Neal Farinah is rightfully claiming his thrown as the king of Sasha Fierce's ***Flawless locks and I'm already bowing down.
Farinah, born in Trinidad, has made a big name for himself since he first set up shop in Brooklyn, New York. The hairstylist was working with typical salon clients as well as a small mix of celebrities when 2005 struck. An unknowingly fateful year for Farinah, one of his clients told him she had a friend who needed her hair done. The friend? Beyoncé Giselle Knowles. Based on Farinah's salon bio, and my powers of deduction, the infamous matchmaker seems to have been Kelly Rowland. Add that to the list as yet another reason I'm thankful for Destiny's Child.
Fast forward 13 years, five world tours, and countless iconic hair styles, Farinah is the go-to hair stylist for what I would consider an earthly goddess and yet he's also probably one of the most humble people you'll read about. Farinah recently spoke to Elle and spilled on how he styles Beyoncé's hair for the stage as well as some of his favorite looks for the superstar.
If you go deep into Farinah's Instagram page, you'll find pictures like this one back from when Bey wore her hair sleek and straight more often.
There's Farinah in the background in the orange sweatshirt. The duo have been working together for most of Bey's career. My, how her style has changed — these days, it's all about the natural curls.
If you're a Bey Hiver like myself, you'll know that the singer often has a dedicated hair style for each tour. Long and wavy, an angled bob, a high ponytail — Bey and Farinah have done it all. For One The Run II, Beyonce's hair style of choice so far has been lots of natural curls. Farinah says,
I love the curly texture [she's wearing now] because that's who she is. She's a curly-haired black woman. She's empowered.
How does Farinah get that near-perfect texture? Surprisingly, by not using a lot of product. The hair guru says that "when you start using a million products, you confine the hair. I think hair should be beautiful, blown, carefree, and magical." As JAY-Z says (in "Summer" on Everything Is Love), "Let it breathe."
Case in point.
One of Farinah's favorite styles is the half-up half-down look. Not just on Bey but "on every woman! Because all you have to do is put some earrings on and that's it. Nothing more. You don't need a lot." Farinah particularly likes this look for Bey's summer tour because "it is hot. A girl cannot dance with a bunch of hair in her face ... You don't want to get her hair all in the face or in the lipstick. It's... no." Practicality is key when it comes to Farinah's work.
Remember that time Beyoncé's Formation tour braid came to life? So does Farinah:
... That magical braid had its own life. It's just the moment. You look on the internet…and it broke the internet! So I love it. I just love every moment.
Somewhat surprisingly, Farinah doesn't have a favorite tool, but says it's his responsibility to continually research and try out new products. I mean, when your client is Beyoncé, I can understand wanting to make sure you have the best of the best.
Farinah says his work is about more than hair, but about making women feel good:
At the end of the day, a woman should always try new things. A woman should always feel empowered. A woman should always believe in herself and never let what one [person] says determine how they feel or how they should look.
Farinah's number one piece of advice?
... Stop being so bothered about everything being perfect. Just live.
Live your life and slay because you're just as ***Flawless as Bey.