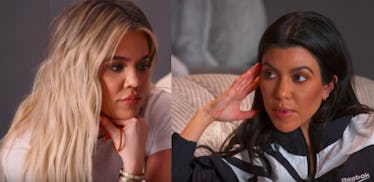 Things Between Khloé & Kourtney Get Heated On 'KUWTK', So Get Ready For The Drama
ICYMI, the Kardashian clan have been having their share of *yikes* moments during this season of Keeping Up with the Kardashians. I'm still shaking my head over Kim calling Kourtney "the least interesting to look at". While that totally rude and unnecessary exchange firmly planted me on the side of the eldest Kardashian sister, things were a little hazier as the fight continued in the upcoming episode of KUWTK. In the preview for episode two, Khloé Kardashian goes off on Kourtney, and TBH, the reason is actually so relatable.
Episode two, which shows the aftermath of said heated argument about scheduling for a family's annual holiday photo shoot, airs on Sunday, Aug. 12, and the preview shows that shizz is continuing to hit the fan. If you were hoping for a tearful reconciliation, hugs, and a make-up selfie to prove that the sisters are BFFs again, you'll be pretty disappointed with how things play out in the upcoming episode.
The E! News clip begins with Khloé and Kim Kardashian suggesting that the three of them head to a family therapy session to hash out the rest of their explosive fight and work things out. Honestly, I'm all for that idea, considering that most of the things that Kim said to Kourtney were harsh. I'm sorry, but sisters or not, you just don't go there. Anyway, as their convo carries on, Kourt decides to spend more time paying attention to her phone rather than the conversation about repairing their sisterly relationship, and Khloé is not here for it.
However, it sounds like Kourtney is understandably not over the fight (and the fact that both Khloé and mom Kris Jenner backed up Kim after her totally uncalled for comments).
"We all have different realities of what goes on when we have our fight," Kim says to her sisters during their pow-wow. "We all communicate really weird and we just don't ever express what's really bothering us and we all walk on eggshells around each other."
Unsurprisingly, Kourtney doesn't agree with this assessment (Kim just screamed at her that she doesn't know what it's like to run a business with passion, after all). The mom-of-three responds, "My therapist just said this will start to happen. People that you're close to you'll probably have some arguments with them. I don't think we need to go to therapy, to be honest, to solve our problems. I think we should just talk."
For most sisters, this would be a good response, but Khloé lashes out at her. "You're the one who I think has the communication issue," she says, at which point, Kourtney completely shuts out the rest of the conversation.
"Just me?" she asks, before pulling up her phone and tuning out her sisters.
The silent treatment annoys the fitness star, who flips her the middle finger (not the most mature move, but she was flush with pregnancy hormones at the time). "We always just like sweep things under the rug and we don't talk anything through," she says. "That's just what this family does."
As Kourtney continues to refuse to engage, Khloé gets more frustrated. "In therapy, are you on your phone or do you give your therapist attention?" she asks. "If you were listening instead of zooming in on some picture you would have known what I was saying. So if you don't care to fix relationships with your sister, I can't force you to." Fight or no fight, it is totally rude when someone focuses on their phone when you are trying to have a conversation with them. Honestly, though, I think Kourt is shutting herself out until she gets more heartfelt apology from Kim.
After failing to elicit a response from Kourtney, Khloé snaps and storms off. "Okay, well I'm not investing myself, so you can f*ck off then," she tells her sister.
OK, yes, getting the silent treatment from a sibling is frustrating, but I'm not here for how Khloé and Kim are putting the blame solely on Kourtney in this situation. Maybe sometime this season Kourt will put down her phone, Kim will get real and offer up a true apology, and Khloé won't feel the need to have to flip the bird at anyone. You can't know for sure, but I'll be tuning into the newest episode of KUWTK to see how the whole thing unfolds.