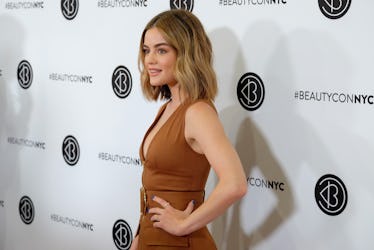 Lucy Hale Just Debuted An Even Shorter Haircut Than Her Last & Now, I Want A Chop, Too
Matthew Eisman/Getty Images Entertainment/Getty Images
There are people who are scissor happy, and then, there are celebrities. To prove my point, Lucy Hale's new haircut is even shorter than before, but it seems as though the Dude actress has zero regrets about her latest chop and would likely go even shorter. On Saturday, July 21, the 29-year-old happily shared a photo of her latest chin-grazing 'do on Instagram, which was created by none other than her go-to hairstylist Kristin Ess, who's worked with other stars like Lauren Conrad to create similar looks.
The new style comes as no surprise, seeing as Hale is no stranger to switching up her hair frequently. Back in mid-April, the natural brunette debuted a gorgeous temporary rose gold tint on Twitter, and then, a few months later in early June, she showed off a new dirty blonde look. It truly seems as though there's nothing Hale wouldn't try when it comes to hair, which is refreshing to see, as it proves hair doesn't need to act as a security blanket.
Still, the former Pretty Little Liars star admits she is definitely a fan of short hair, a style she's been rocking for quite some time now. "I really, I can't imagine going back to long hair," she told Teen Vogue back in January 2016. "I feel like it just fits my personality better."
She did later admit to Refinery29, however, that shorter hair can be more difficult to style. "I haven't quite mastered it," she said, adding, "It's a challenge to get the right angles with curls and stuff like that."
While it may be mostly fun and games when it comes to her hair, Hale definitely doesn't play around when it comes to her skin. Don't believe me? Well, back in February, Hale shared her 15-step skincare routine with Allure, and yes, my jaw dropped, too. "It's important to take care of your skin to begin with and then you don't really need to do much to enhance what's already there," she told the publication. So what exactly does this extensive routine entail? Although she didn't give all the details, the actress did share that she washes her face up to four times a day.
First, Hale begins with a cleansing balm or oil to remove her makeup, then she uses a cleansing milk, followed by an exfoliator, and finishes with micellar water to pick up any leftover dirt. Wow!
As far as her ever-changing hair goes, even though it may seem like the star is down to try just about anything, she also revealed to Allure that there's one style she's certainly not interested in trying. "Honestly, I don't think I would get bangs," she said. "Purely because I think they might annoy me. I'm always trying to get my hair off my face, so I know if I added bangs, I'd just annoy myself."
Fair enough, but if Hale did decided to go for it, I am 100 percent sure she would pull it off with ease, just like all of the other styles she's tried.