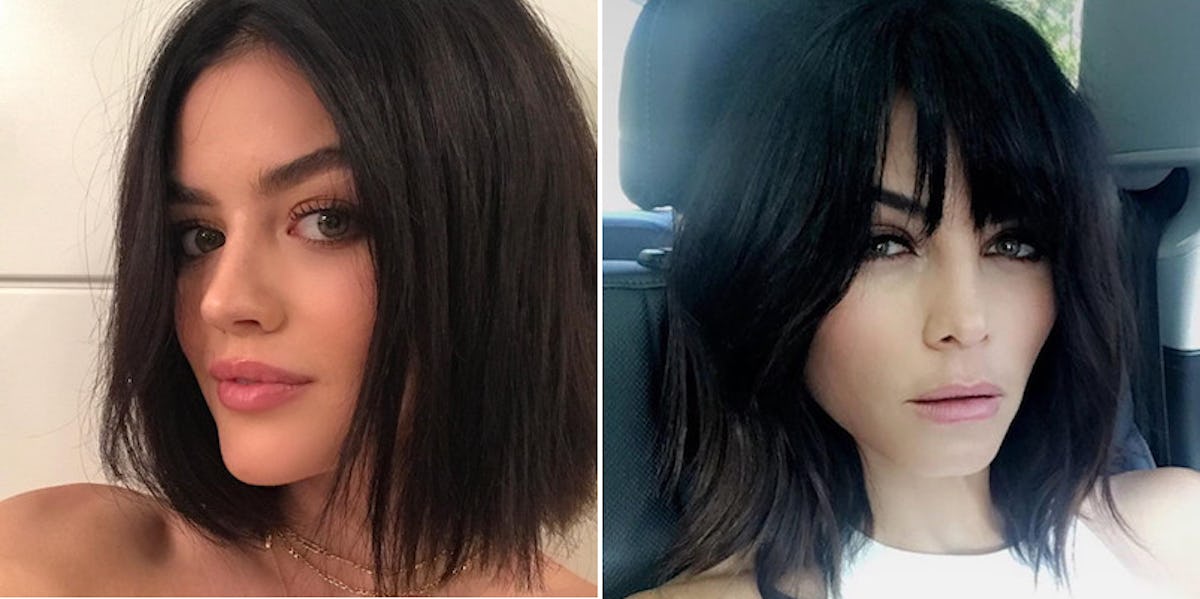 Lucy Hale Is Straight-Up Jenna Dewan Tatum's Twin After Getting This Haircut
Instagram
When it comes to switching up her look, Lucy Hale wastes no time.
The 27-year-old actress spoke to Cosmopolitan a while back to talk about the fact that she was hardly ever able to change her hair color or hair length during the filming for her role as Aria on "Pretty Little Liars."
However, all that has changed. Hale recently landed herself a new role (it's a secret), which allows her to switch up her swag. That's right, no more Aria (sorry, "PLL" fans).
Lucy Hale is back with a new look, and she looks a lot like another famous face.
According to Cosmopolitan, the star's long-time stylist Kristin Ess is responsible for recoloring Lucy Hale's honey-colored hair to a dark black-brown look. She said,
I cut it with scissors first, then a razor and thinned it out underneath with thinning shears where it was the most bulky.
With her fresh new look, she looks JUST like Jenna Dewan Tatum. Don't believe me?
They're freakin' twins.
Here's Jenna. See? I told you!
One more time...
Um, yeah, they're basically the same person.
However, the difference can be seen in Lucy's old photos.
During her time as Aria on "Pretty Little Liars," her hair was a mixture of her natural hair color and a dark brown.
Unfortunately for all of the diehard "PLL" fans out there, those days are over.
After her Aria phase, the 27-year-old actress returned "back to the blonde life" with a little help from hair stylist Kristen Ess.
As for her latest look? It's totally obvious that she's a Jenna Dewan Tatum clone...
Need I say more? They're #twinning in every sense of the hashtag.
And that is NOT a bad thing... Just don't put her in the same room with Channing Tatum while she's got this hair color.
That could get really confusing really fast.
Citations: Lucy Hale's New Dramatic Hair Transformation Is for a New Role (Cosmopolitan)