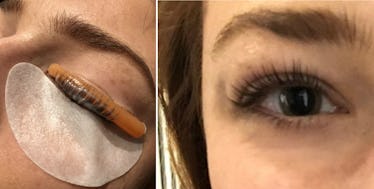 I Tried A Keratin Lash Lift & Now Strangers Won't Stop Staring At My Eyelashes
Ashlyn Thompson
I've been addicted to my eyelashes for a long time. OK, not just my eyelashes, but also any improvement I can potentially make to them. I'm basically DTT (down to try) anything that will transform my lashes into the longer, darker, more fabulous versions of themselves. So when a friend told me about a new treatment, I first wondered, what is a keratin lash lift?, followed closely by, and how can I get one?
The keratin lash lift is described as "a perm for your lashes" and listen up, kids, it's the real deal. Not only is the lash lift cheaper than eyelash extensions, it's also actually good for your eyelashes (a sigh of relief after spending months terrified my extensions would rip every last lash away and leave me looking like straight-up Gollum). You may recall keratin from the hair care world, because it's what your hair is made of! Products boasting keratin, a protein composed of amino acids, strengthen and fill in gaps in your follicles. Well buddies, the same theory applies to your lash hair.
While there are certainly other alternatives to scoring a Instagram-worthy lashes, like using a growth-enhancing serum or simply piling on Better Than Sex mascara, I'm lazy. I want to roll out of bed with gorgeously-sculpted lashes, without exerting any effort at all — and I'm not alone. Celebrities like Karrueche Tran were the first to adopt this new lash trend, but let me tell you, they won't be the last. Mark my words: lash lifts are going mainstream.
After doing some research online, I booked an appointment at the Hourglass Cosmetics Flagship store in New York City. Yes, you read that right — the purveyor of cosmetics such the as the Ambient Light Highlighter Palette just opened a brand new boutique, expanding beyond products to offer beauty services like brow sculpting and makeup master classes.
When I say every single woman working at the Hourglass boutique has undergone the keratin lash lift, I mean it was like walking into unadulterated eyelash heaven. Amongst these wide-eyed creatures, I looked like a hot mess during a surprise downpour, and I felt fully ready to be transformed.
My lash stylist Yoli (read: beautiful miracle-worker with hands of God) had a calming voice, and spoke with that fear-assuaging confidence stylists have that makes you want to tell them all of your secrets as they gently massage your scalp.
From start to finish, the process took a total of 45 minutes. First, my eyes were closed while Yoli placed a little plastic rod (rod is the only word that comes to mind, sorry) on my eyelid, above my lashes. She then applied a keratin treatment over my lashes, so that they were bent up around the rod. Next, she talked to me about my family and career goals while the keratin works its magic for eight whole minutes.
After I was finished marinading in keratin, Yoli removed the solution and replaced it with a serum that "locks it all in." TBH, I'm not sure what this serum contained, but at this point Yoli knew about my strained relationship with my dad, and I trusted her with my life. That serum sat for another eight minutes, until Yoli finally removed all the plastic things from my face and I stared into the mirror at my beautiful reflection.
Drumroll please for the before and after photos.
Before
After
Listen, I'm not trying to be dramatic but my lashes were completely transformed and I'm pretty sure my life was, too. I walked out of the salon with Kylie-Jenner-posting-Snapchat-videos level confidence and I could tell every passerby was blown away (get it?) by the wind coming off my lashes.
I didn't even discover the best part about this treatment until I had left the salon. Apparently your lashes stay like this for a whopping 8-12 weeks after the treatment. You can wear mascara, go scuba-diving, do your very worst, and these puppies stay curled. Even after you go to town taking your makeup off, your lashes bounce right back up and into formation.
If you're looking for the best bang for your buck, you have to try the keratin lash lift. For years I loaded on the mascara, lengthening and volumizing tube after tube. I had a brief love affair with eyelash extensions, but once I moved to New York I quickly discovered what everyone who isn't an A-list celebrity already knows: they're f*cking expensive. This treatment offers a cheaper alternative that's better for your lashes and lasts longer. Yes, yes and hell yes.
And to answer your question, yes, I've already scheduled my follow up Keratin Lash Lift ($150; hourglasscosmetics.com) appointment. If you're interested in testing it out, I recommend calling up the licensed lash studios in your area and asking specifically about this treatment, because you don't want to leave your eyes to anyone less than the best.
Long live lashes.