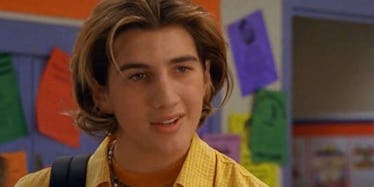 Here's What Ethan Craft From 'Lizzie McGuire' Looks Like Today
Disney Channel
I grew up watching Disney Channel's "Lizzie McGuire" like it was my job.
This show was hands down the best thing to grace TV during my middle school days. Lizzie was seriously my girl, and I could relate to her so much.
No joke, I legit skipped school to see "The Lizzie McGuire Movie" with one of my friends the day it came out. We even snuck sandwiches and an insane amount of chocolate into the movie theater because we thought we were total badasses.
OOPS. Totally worth it though. The movie was honestly epic and so were the snacks.
Hey now, hey now, this is what dreams are made of.
Like most of our teenybopper selves, I had the biggest crush on "Lizzie McGuire" heartthrob Ethan Craft. He was SUCH a hunk.
Am I right, or am I right?!
Let's just reminisce upon that sexy hair flow he consistently rocked like a pro. It's a known fact no one had radder hair than Ethan.
Since his days stealing all of our hearts on "Lizzie McGuire," Ethan Craft, AKA Clayton Snyder, has changed a lot.
Here's what our main dude Ethan looks like today.
It's safe to say he's still handsome AF, so try to keep it together.
He attended Pepperdine University in California…
And casually played professional water polo like a boss.
His acting career is still going strong, too. He's in the TV mini-series "Edgar Allan Poe's Murder Mystery Dinner Party."
Cheers, Ethan.
He's got mad jokes on his Instagram.
OH, and here he is shredding it UP on the guitar, crushing Black Sabbath's "Paranoid."
It basically feels like we're on this super gorgeous kayak ride with Ethan RN. Be v. jealous, Kate Sanders.
You keep doing you, Ethan Craft.