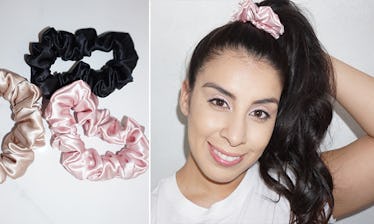 Silk Scrunchies Are Bringing Back The '90s & They're So Good For Your Hair
Stephanie Montes
Some trends look cute but are actually so bad for you — sure, pink-lemonade hair looks amazing, but the amount of bleach you need to strip your color is enough to fry your ends to the point of no return. Luckily, the '90s are back and these silk scrunchies are not only giving me serious nostalgia, they're actually so good for your hair.
Ever since Slip, the silk pillowcase brand, came onto the beauty scene, I've been so obsessed with the benefits of sleeping on this luxe fabric. Not only does it make me feel bougie AF, it's the perfect extension to my beauty routine. Silk has a slip to it, which unlike cotton, won't snag your hair or cause split ends. Bonus: it won't make your hair super frizzy or messy in the morning, or give you those weird sleep lines on your face.
When you wake up with a serious rat's nest in your hair, it's usually result of a rough pillowcase. Silk is also much less absorbent than most other pillowcases, which means it won't dehydrate your hair or soak up skincare products off of your face. So imagine my delight when Slip took that same fabric and made a scrunchie with it...on trend and good for my hair? I'll take it!
The adorable scrunchies come in two sizes: a large, which is basically the same one you wore back in the day and a small, which is the same size in stretch but has much less fabric so it looks thinner. The Large Scrunchie 3 Pack ($39; slipsilkpillowcase.com) comes in either all black or black, pale pink, and champagne. The Small Scrunchie 6 Pack ($39; slipsilkpillowcase.com) comes in sets of all black or a mix of black, pale pink, and champagne.
If the throwback trend isn't something you could ever see yourself wearing in public, it's the perfect accessory to pull your hair back in the privacy of your own home. Whether you're washing your face, cleaning house or getting ready for bed, scrunchies are an ideal alternative to rubber bands that snag and pull your hair. And the best part is, if you're trying to preserve a blowout, it won't leave that annoying crease in the middle of your hair.
If you're all about the trend like I am, the solid-colored silk scrunchies are the chicest accessory to keep hair out of your face, while making a fashion statement at the same time. My favorite way to wear one is to curl the base of my ponytail, tease it at the top to for some extra volume, and wrap it in the silky pale pink scrunchy. It's feminine, super girly and so '90s, in the best way. I also love a sleek topknot paired with the large black scrunchie. It gives an everyday casual hairstyle a shiny update and doesn't feel outdated at all.
The small scrunchies are clutch for anyone who wants to be gentle on their hair but doesn't necessarily want to use it as a fashion statement. It's much more understated, but also allows you to reap the benefits like, less snagging, less product absorption, and less dehydrating of your hair.
Optimal for running errands, pulling you hair out of your face at the gym or styling bad hair days, if you keep a scrunchie everywhere (in your car, purse, gym bag), and you'll never have a bad hair day again. OK, I can't really promise that, but at least your living/sleeping habits won't be responsible.
Just call me Mindy.
Finally, a trend that takes us back to our childhood days in the most adorable way, that's actually GOOD for our hair. Needless to say, I'm totally buggin'.