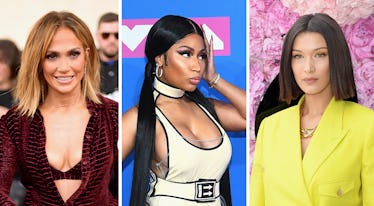 The Biggest Fall Trends For Straight Hair Are Long & Luxe Or Short & Dramatic (Just Like Me)
Matt Winkelmeyer, Nicholas Hunt, Pascal Le Segretain/Getty Images Entertainment/Getty Images
Forever a fan of the beach wave, I never was the biggest straight hair believer. Lately, though, the appeal of shiny, straight strands has been growing on me, and I've even picked up a new flat iron in anticipation of fall 2018 straight hairstyles. To make sure I start out my new "straight hair phase" on the right foot, I decided to turn to professional hairstylists to see exactly which straight hair trends they think will be major head-turners for the autumn season.
While Instagram has become the catch-all area for trendspotting, this fall, trends are popping up via a more old-school approach, as people are looking to their favorite celebs to deliver some straight-stranded inspo — and deliver they have. From short, shiny bobs to super-long, sleek ponies, the looks spotted on your faves this year are all about dramatic statements. Whether you prefer long or short, up or down, dark or light, the perfect fall style for you exists, and it's just waiting for you to try it out. Grab a straighener, and let's get down to business.
Sleek, Shiny, Glass Hair
Pretty much every hair expert I spoke to hailed reflective, straight hair — a.k.a. "glass hair" — as the glossiest, most glamorous hair trend of fall 2018. "Glass hair is having a moment," explains Stephanie Brown, a hairstylist at Eddie Arthur salon in NYC. It's when the hair is slick, straight, and very shiny. It works well on bobs and very long hair."
Daniel Lutz, a hairstylist at Wonderland Beauty Parlor in New York City, explains how to master the look with ease — especially since the hot summer weather is finally giving us a break. "When we head into fall, we can stand to spend an extra couple of minutes with the blow dryer or flat iron and not worry about getting heat stroke," says Lutz. True that.
"My suggestion for straight hair right now is to make it as glossy as can be, by using products like the ColorWow Dream Coat ($28, colorwowhair.com) before heat-styling to give hair an otherworldly shine," says Lutz. "Once hair has been styled, use a product like the R+Co Foil Frizz + Static Control Spray ($28, randco.com) to lock in the shine and provide humidity-fighting qualities."
Color Swaps and Blended Balayage
If you're looking to change up more than just your cut or hairstyle, a new color or an update to your current shade can be a fun way to get your straight strands fall-ready. "Going a rich, darker color is always a good option for straight hair in the fall, but if going all one color isn't for you, then a balayaged look works, too," says Michelle Gonzalez, a hairstylist at Mimi's Salon. "Straight hair shows all its imperfections, and doing a balayage or melted look will always look better than traditional foils, thanks to the seamless blend."
Brown is also a fan of updating your color for fall, especially to spice up straight strands. "Highlights are great for straight hair because they give dimension and the illusion of fullness. For blondes, a shadow root is really popular," she advises. "I always like to have the highlight go all the way to the root at the front of the hairline to frame the face, and everywhere else, I tend to shadow the root color a little deeper with a toner, so it's slightly darker than the rest of the highlights, but still a little lighter than the client's natural color."
The Extra-Long Pony
Ariana Grande has been rocking the long, straight updos for quite some time now, but when her BFF Nicki Minaj showed up to the 2018 VMAs with two dramatic, knee-length pigtails, I knew the trend had really caught on.
"Straight hair reflects light better than any other hair texture, and a high-shine pony will make you feel chic and sleek," says Briana Cotton, a hairstylist at Mimi's Salon. "This style almost creates the illusion of an instant facelift — it enhances your cheekbones and elongates your jawline."
Plus, you know the look is a big mood when Kylie Jenner deems it worthy enough to rock for her 21st birthday celebration:
To get the style, Cotton insists it's fairly simple, and even throws a braided moment into her breakdown of the look, so you can have ~options~ when giving this style a go.
"Start by prepping your hair with a high-shine hair oil or spray, and brush through evenly," she says. Her co-worker, Gonzalez, particularly loves the IGK Good Behavior Spirulina Protein Smoothing Spray ($32, igkhair.com) and the Tigi Bed Head Headrush Shine Spray ($21, ulta.com).
"Section off a small mohawk section at the top of your head, and create a small French braid, secured with an elastic," advises Cotton. "Next, spray the sides of your hair with hairspray to smooth out any bumps, and use a soft, boar bristle brush to pull hair up into a high pony. The higher, the better! Take a small section of hair from the ponytail and wrap it around the base to hide the elastic, and secure with a bobby pin."
And if you really want to amp up the length like these celebs? "For extra drama and fullness, you can clip in a few extension wefts into the ponytail base," says Cotton. "Or, make it even easier by purchasing a ponytail extension hair piece!" The Bellami Hair Faux Wrap Ponytail 160g 20" Extension ($40, bellamihair.com) comes in 38 different hair color options, so chances are you can find a good match and make it ~werk~.
Bobs and Lobs Galore
"Straight-haired girls should embrace the bob," insists Lutz. "It's still having a moment, and chin-length to collarbone-length is flattering on so many face shapes.
If you need proof, scroll through Instagram and just try not to lose count of all the celebs going short. Almost all of the Kardashians and Jenners plus Vanessa Hudens, Lucy Hale, J.Lo and more have rocked a straight, cropped style within recent months.
Spoiler alert: They 👏 all 👏 look 👏 incredible.
Try it out, and if you really end up missing your length, you can put that Bellami Ponytail Extension to good use on a regular basis.
Prior to talking to these hairstylists, I had absolutely no idea what to do with my straight hair for fall, but now that I've reaped their wisdom, I'm totally torn between a long, shiny pony and a short, sleek bob. My only comfort lies in the knowledge that whichever style I choose will be on-trend and fall-appropriate, so thank goodness for that.