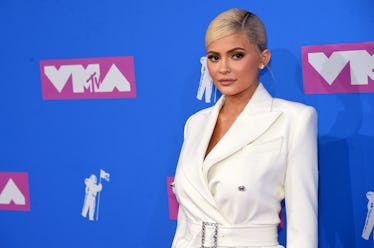 Kylie Jenner's 21st Birthday Hair Extensions Cost More Than All My Years Of Birthday Parties
Jamie McCarthy/Getty Images Entertainment/Getty Images
For some weird reason I've yet to figure out, I wasn't invited along with the Kardashian-Jenners to celebrate Kylie's 21st birthday. As a result, I've resorted to stalking the sisters on Instagram to find out what went down that night, and from what I've gathered, it was a super stylish, luxe night out with the girls... again, must've missed my DM invite or something. Each of the Kardashian-Jenners was dressed to the nines, but it was the hair that caught my eye. In particular, it was Kylie Jenner's 21st birthday hair extensions — which were gathered into a long ponytail that gave Rapunzel a run for her money. Not to mention, these extensions apparently cost more money than all my 23 years of birthday parties combined.
When I say these extensions are long, I'm not talking "tons of biotin and a great haircare regime" long. I'm talking "live action remake of Tangled," if you catch my drift. The family has posted dozens of pics from the celebration, and even though all the girls looked glam, Kylie really stole the show with these lengthy locks. In her first ensemble, a hot pink minidress complete with a wrap front and shoulder pads, Kylie's pony rested at the nape of her neck and was practically invisible in photos.
It wasn't until she posted the birthday photos wearing a skin-tight, pink, bedazzled romper that I really saw her party pony in full swing:
Ariana Grande, who? This was serious ponytail goals:
If you're new to extensions, let's put it this way: Length like that isn't cheap. In an interview with Refinery29, it was revealed that Jenner's usual hair stylist, Chris Appleton, enlisted a hair extension artist by the name of Violet Teriti to get the look just right.
Turns out, Teriti is actually Kim K's go-to for extensions as well, giving Kim some length on the night of Kylie's birthday, too:
"Kim saw my hair and she really liked it and asked for my information and I became her 'hair girl.' It's been over a year now," Teriti told Refinery29. "Then recently, Chris [Appleton] requested new hair for Kylie for her blonde hair, so I customized the hair for her birthday."
Bet you're curious as to how much that costs, aren't you? Think of the priciest extensions you could imagine, and then prepare for an even pricier answer. Ready? "Kylie's weft was about 400 grams, which I typically sell for between $6000 and $8000," said Teriti.
"It's Slavic hair sourced from Russia," Teriti continued, explaining why the strands were so pricy. "There's nothing better than that hair because it's the only hair that doesn't need to be bleached and processed so many times, or even toned and glossed — it's naturally already highlighted."
Teriti elaborated that she was only given a day to prep Kylie's extensions, claiming she normally dedicates seven to 10 days to receiving bundles of hair, along with another two days to customize. Kudos to her for making the time crunch work, because the final results were nothing short of stunning.
Teriti also clarified that the Rapunzel vibe wasn't achieved using your average clip-on pony tail extension: "A lot of people think it was a ponytail, but it was actually a weft, which is good when people are going really, really long because you have to have a lot of hair to have it look thick and long."
Listen here, I'm no hater, and I think Kylie looked incredible for her birthday, but I don't exactly know if an $8K ponytail qualifies as "necessary." Then again, she's newly 21 and almost a billionaire, so she can spend her coin as she pleases. You do you, KJ!