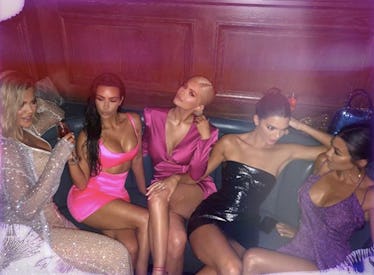 Kylie Jenner's 21st Birthday Party Photos Prove The Kardashians Are About Love, Not Drama
Khloé Kardashian on Instagram
When you officially turn 21, it's sort of a no-brainer to go out and celebrate. You can drink legally! You can go into all those 21+ clubs! You can understand the true meaning of a hangover! And, as you may or may not know, Keeping Up With The Kardashians star and beauty mogul Kylie Jenner celebrated the big 2-1 on Aug. 9, the eve of her actual birthday. And you guys, the photos of Kylie Jenner's 21st birthday party look LIT AF. Honestly, combining a Sweet 16 party with a New Year's Eve party would still pale in comparison to the banger that Kylie threw for her big day. It was gloriously over-the-top and honestly, who is even surprised? Not me, and certainly not the Kardashian family — and from the looks of it, they were living their best life all night long helping Kylie celebrate in style.
Kylie started her night off right at dinner with her family at Craig's in West Hollywood. According to E! News, Jenner wore a "pink Dundas dress, Olgana Paris heels and a $148,000 Martin Katz ring," because why wouldn't you wear an outfit that costs more than a home? She reportedly arrived with boyfriend Travis Scott, and was joined by Kris Jenner, Corey Gamble, Khloé, Kourtney, Scott Disick, and friend Malika Haaq. Kendall Jenner reportedly arrived shortly after with her rumored new boyfriend, Ben Simmons.
Kylie took to Instagram throughout most of the night (alongside her siblings) to document the occasion, and started first by showing off her birthday outfit:
She then posted a picture from her dinner with her family, writing, "BIRTHDAY BEHAVIOR! WERE ALL TURNING 21!!" While I'm *pretty* sure that it's physically impossible for momager Kris Jenner to be the same age as her daughter, the photo is still a cute one nonetheless:
After her birthday dinner, Kylie transformed into a magical sparkly creature, changing into a LaBourjoisie jumpsuit for her party at Delilah.
Can you say goals?
According to E! News, her theme was "pink and gold, and there were huge floral arrangements hanging around the bar. The nightclub had a huge ball pit set up in the private room in the back, and a source tells E! News the famous sisters were "jumping in and having a lot of fun" with it."
Private room? BALL PIT? More on that later.
Let's talk about the guest list, and, spoiler alert, pretty much anyone who's anyone made an appearance. Celebs like Chris Brown, Cara Delevingne, The Weeknd, Dave Chapelle, Ashley Benson, French Montana... should I go on? Nah, I think everyone is already jealous enough.
So now, let's talk about the party itself. "Kylie F*cking Jenner" lighters were strewn about, customized "21" drinking cups were served (and your color choice of the cup you chose was either: red (taken), yellow (single AF), or green (it's complicated), and a freaking mural of the entire extended Kardashian family covered Delilah's wall (minus Tristan Thompson). A source told E! News, "The décor was over-the-top."
Um, ya think?
But instead of just salivating over hearing the details, let's just show you them instead:
Kylie really amped up the atmosphere by decking the ceiling out in shimmery, pink balls:
Here's one of her customized cups (this one is "It's Complicated," if any of y'all care):
Here's just a quick peek at the ginormous Kardashian family mural that took up the entire wall:
At last, we've reached the glorious ball pit! Here's Khloé and Kim frolicking around in 'em:
Selfies were taken, because obviously:
And last, but certainly not least: Kylie Jenner enjoying her VERY FIRST sip of alcohol! (I cannot confirm nor deny that statement TBH):
Happy birthday, Kylie! Wishing you a year that's filled with nothin' but good vibes.