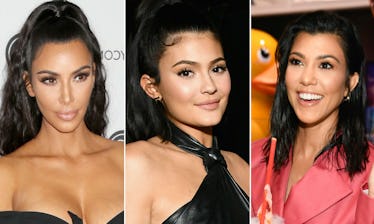 Kylie Jenner Picked A Side In The Kim Vs. Kourtney K Feud With One Epic Instagram Comment
David Livingston/Getty Images; Emma McIntyre/Getty Images; Dave Kotinsky/Getty Images
There's nothing like a new season of Keeping Up With The Kardashians to get the Kardashian sisters' emotions running high. Following the dramatic premiere of the 15th season of KUWTK that saw Kourtney butting heads with her sisters Kim and Khloe in the episode (and then butting heads with them again while rehashing the whole situation on Twitter), it looks like their youngest sis, Kylie, is picking a side — or at least throwing a bit of shade at the whole situation. Kylie Jenner's comment on Kourtney Kardashian's Instagram is so shady and suggests that she couldn't disagree more with Kim's assessment of their oldest sister's looks.
Okay, so here's the abridged version of all the drama if you aren't all caught up: In the KUWTK season 15 premiere, Kourtney and Kim got into a huge fight over the fact that Kourt wouldn't adjust her schedule to work around Kim's for their annual family Christmas card. Kim accused Kourt of being difficult, and what started as a discussion about scheduling devolved into Kim lobbing insults at Kourtney, the worst of which was to diss her looks, saying, "She is the least exciting to look at." Which is, like, absolutely ridiculous.
Obviously, Kourtney was really hurt by that (because who wouldn't be), and Kim was, frankly, not that sorry, writing on Twitter that that's just how sisters argue. (Though, as someone with three sisters, I can confirm we said some really effed up stuff to one another on occasion, but it was usually followed by an apology, not suggesting they've got issues for getting upset like Kim did in this situation).
Anyway, now Kylie Jenner is throwing her thoughts into the ring with an epically simple Instagram comment on Kourtney's Instagram. Jenner's birthday is on Aug. 10 and all the sisters got dolled up to go out and celebrate their baby sis' 21st. It was actually Kourtney's plan to pretend that she was the one turning 21 on Jenner's big day as a joke, so she shared this photo on Instagram rocking a gorgeous, shimmery purple dress with the caption, "thank you for all of my birthday wishes."
Kourtney looks stunning, am I right? And Kylie Jenner certainly agrees. She decided to compliment Kourtney's look with the shadiest of comments, writing, "Happy birthday you're so interesting to look at."
Clearly, Jenner is making reference to all the drama that went down over the last week with Kim and Kourtney, and it's also super clear that Kylie disagrees with Kim's opinion that Kourt is the least exciting or interesting to look at. In fact, she's stunning to look at. I actually think I'll need a pair of sunglasses if I ever want to glance at that Instagram post again, she's shining so bright.
Well, despite all the drama and shade, it appears that Kim and Kourtney are actually are on good terms. They were spotted hanging out on Snapchat together and then Kim and Kourtney were the first to come to Kourtney's defense in the middle of all her breakup drama with Younes Bendjima.
Then on Aug. 9, leading up to Kylie Jenner's birthday festivities, she posted an Instagram photo with all her sisters except Kourtney hyping their plans for the night. But she made sure to give Kourtney a shoutout, writing, "Sisters about to turn up tonight for Ky's birthday!!!! *Don't worry Kourtney included."
These sisters definitely fight hard, but they love hard, too!