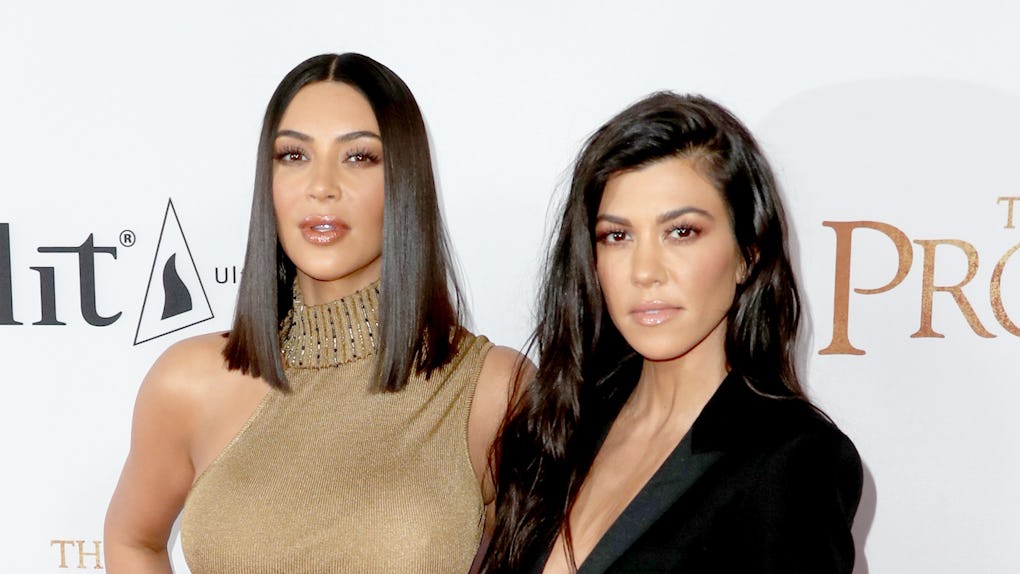 Frederick M. Brown/Getty Images Entertainment/Getty Images
Kim & Kourtney Kardashian's Snapchat Together Proves Their Feud Is No Big Deal
All's well that ends with a Snapchat. That's what I always say. After an explosive first episode to Season 15 of Keeping Up With The Kardashians, fans have been a little bit on edge trying to gauge the temperature on where sisters Kim and Kourtney stand right now. On the August 5th season premiere, the two oldest sisters had it out in a big way over the now-famous 2017 Christmas card. The fight resulted with Kourtney in tears and Kim calling her "the least exciting to look at" family member. Oof. However, Kim and Kourtney Kardashian's Snapchat together from Aug. 7 shows they're actually over it, like in real time, so everyone can relax now.
There was a lot of noise following the premiere when the sisters jumped on Twitter to rehash the argument on social media. Kourtney defended herself reiterating that her priority is being a mother, with Kim fighting back, "and mine isn't?"
Sure, it all ended with a proclamation of "ride or die" love, but it was wild to watch nonetheless. Yet, here we are, just a few days later and the sisters are palling around on social media as if it never happened. In their most recent video, Kourtney and Kim seem to be checking out their Calvin Klein campaign in a local store. For whatever reason, Kim also has a giant golden cell phone. Minor details.
Take a look.
If a chill day-in-the-life Snapchat doesn't prove these sisters are totally fine, then maybe this will...
Fans are still stunned after finding out Kourtney Kardashian and Younes Bendjima reportedly called it quits after nearly two years of dating. TMZ reported the breakup on Aug. 7, when Bendjima was photographed getting nice and cozy with another female during a trip to Mexico. The woman's name is Jordan Ozuna, and she reportedly used to date both Tyga and Justin Bieber. After the photos surfaced, Bendjima jumped on social media to defend himself claiming he was on a trip with a bunch of friends. In one Instagram story, he wrote:
Once again you guys failed. I'm not attached to this 'life' so you can't touch me. I know who I am where I'm from and where I'm going and that bothers you. Only one opinion matter The one of my Lord. Have a wonderful day.
Kim was quick to call his bluff. She commented on a screenshot of his story saying, "Nice pics from your 'boys trip'." She also added the long-nose Pinocchio emoji, suggesting Bendjima is a liar.
I don't know why I have to keep repeating myself, but — do not come for the Kardashians.
While fans are worried about Kourtney during this tricky time, they're comforted knowing there's no lasting beef between her and her sisters. My heart can't handle a Kardashian family falling-out right now. Between all of the new babies, business launches, and cheating scandals, this family has to stick together.
Check out the entire Gen Why series and other videos on Facebook and the Bustle app across Apple TV, Roku, and Amazon Fire TV.