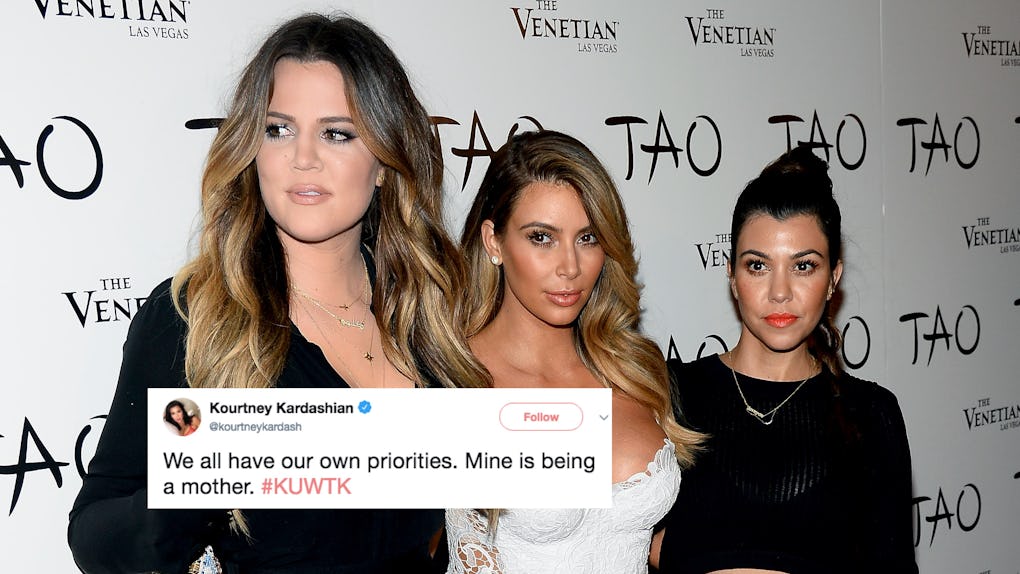 Ethan Miller/Getty Images/Twitter
Kim, Kourtney, & Khloe Kardashian's Twitter Fight During 'KUWTK' Was Their Worst Yet
Keeping Up With The Kardashians is officially back. The new season premiered Sunday, Aug. 5, on E!, and the premiere showed the entire nasty fight all of the trailers and clips from this season were promising. That fight happened and was filmed way back before Christmas (the fight itself was triggered by the scheduling of the photo shoot for the family's Christmas card), but clearly the sisters aren't over it yet, seeing as Kim, Kourtney, and Khloé Kardashian's Twitter fight during KUWTK was one of their worst social media fights ever.
Kim Kardashian came under a lot of fire last week when the clips from this fight were first released. She said horribly nasty things to Kourtney (she said she was the "least exciting to look at" and that no one wanted her at the shoot anyway) and wouldn't let up on the cruelty, and she got a lot of warranted flack on Twitter for it. Still, she and Kourtney maintained that they're still good with each other. Kim's argument was that siblings fight all the time — it's what they do. And, yes, that's true. But if I'm still fighting this badly with my sisters when I'm a grown adult, we've all done something wrong.
These two clearly aren't over their fight, however, seeing as the second the fight aired, they started rehashing the fight on Twitter. Kim tweeted in defense of herself saying that Kourtney wasn't being respectful of her time constraints. "You hear that???" she tweeted. "If I don't take my meeting as scheduled then I couldn't launch my ULB KKW BEAUTY collection! AND I had this oNLY time slot to plan my baby shower, but Kourt wouldn't budge to help a sis out!" Just minutes following, Kourtney tweeted, "We all have our own priorities. Mine is being a mother."
That set Kim off. She tweeted, "And mine is not? The shoot was with our kids!!!!! My #1 priority is being a mother as well and I can work too, so can you!"
Kourtney responded, "And i do. But i wasn't wanting MORE work, i already felt spread thin. Being a good mother also has different meaning to each of us. You're an amazing mother, I'm not taking that away from you."
They started responding to tweets from fans during this whole fight. A fan tweeted saying that their fight is a typical fight among siblings. Kourtney agreed and said, "We're ride or die. But i don't accept the way we criticize and judge each other anymore. My personal growth doesn't allow it."
Kim seems to be cool with Kourtney's boundaries now. She tweeted, "Good to have learned these boundaries this season. Lots of personal growth!" At first, I read that to be hella sarcastic, but I think Kim had genuine intentions with that one.
To make that even more clear, Kim tweeted, "dont ever get it twisted, me, Kourtney and Khloe are GOOD! ALWAYS!!!! Never question that!" Kourtney quoted this tweet and said, "Unconditional love."
Where's Khloé through all this, you ask? Oh, don't worry. She joined in the second the dust seemed to have settled between Kim and Kourtney.
In the clip of the aftermath of Kim and Kourtney's fight on the season premiere, Khloé calls Kourtney to see if she's OK. A sobbing Kourtney answers the phone, and then Kim eventually comes in to get even more jabs in (she just can't stop herself, apparently), and the whole thing is just a giant, mean mess.
One fan asked Khloé whose side she was on during this particular fiasco. She tweeted, "I just wanted peace." Kourtney took a small jab at her sister and said, "Khloe let's be honest here."
And of course, that set Khloé off. (It's almost as if they planned this entire Twitter fight in advance to help promote the season premiere! That would be so unlike them!) Khloé tweeted, "What the f*ck does that mean?? I didn't want peace??" Kourtney stoked the fire even more and said, "Eventually."
Khloé, clearly pissed, tweeted back at her sister saying, "Wait are you for real @kourtneykardash ??? Do we want to get into why all of us were frustrated with you? You want to do this on twitter?" I feel like this tweet was more of a "Next time on Keeping Up With The Kardashians" clip than Khloé actually being pissed at Kourtney.
In two more tweets, Khloé said, "Please explain when I ever jumped in on that situation. I'm the one who f*cking called you to make sure you were good," and "Hey @kourtneykardash are you watching the same episode I am??? Do you think I was picking on you? I was genuinely concerned about your happiness. Stop looping me into your drama with Kim! Don't ever tweet that sh*t again!"
Kourtney brought Kris Jenner into it at one point too. She tweeted during the fight (both the TV and Twitter ones), "Not gonna lie, my moms reaction is a little disappointing too." I imagine Kris Jenner is very proud of her daughters for doing such good promotion for the show on Twitter, though! The next episode of KUWTK will apparently show the infamous photo shoot itself, so prepare yourselves for more (totally real, not at all set up in the name of ratings) Twitter fights next Sunday.