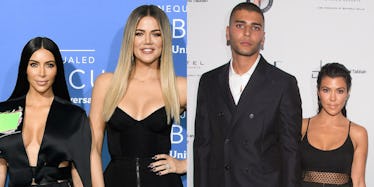 Kim & Khloé K Just Threw Shade At Younes Bendjima After His Reported Split From Kourtney
Dia Dipasupil/Gabriel Olsen/Getty Images
Kourtney Kardashian reportedly broke up with longtime boyfriend Younes Bendjima, and despite all of the "drama" currently unfolding on Keeping Up With The Kardashians between Kourtney, Kim, and Khloé, the sisters jumped to Kourtney's defense following the split. Kim and Khloé Kardashian shaded Younes Bendjima on Instagram on Aug. 7, and yikes, nothing about this reported breakup seems to be going well. Elite Daily reached out to Kourtney and Bendjima's teams for comment on the reported split.
TMZ broke the news about Kardashian and Bendjima's reported breakup on Aug. 7. It's not clear if they've been broken up for a bit and we're just now learning of it, or if their breakup really did happen as recently as this week. Bendjima was under (justifiable) fire in July from Kourtney's fans (and people who don't want to see any woman treated badly, TBH) after he posted an extremely rude comment on an Instagram she posted that highlighted her butt. He commented, "That's what you need to show to get likes?" Woah, woah, back up. A source told E! News at the time that Kardashian was fed up and disappointed by that kind of impulsive behavior he displayed, suggesting that comments like that were a pattern.
A source told the outlet,
Kourtney doesn't appreciate Younes posting his feelings in a public forum and being impulsive. She's frustrated that he continues to get upset about it. She isn't going to stop doing what she's doing and feels like he needs to understand and deal with it.
On Monday, Aug. 6, Bendjima was photographed on a vacation in Mexico (sans Kardashian). The photos showed him cuddling up to a woman named Jordan Ozuna, who has reportedly been linked to Justin Bieber and Tyga in the past. A source told E! News, "Kourtney and Younes have been arguing since coming back from their big Italy trip and have truly not been getting along."
The source added, however, that despite the fact that they were fighting for about a month, "there was a huge chance they were going to get back together and they were working on things, but now that these photos surfaced, things are definitely over." So it seems like there was trouble in the relationship, they took a break, tried to work on things, then Bendjima went on this trip to Mexico and Kardashian was just done.
Here's where Kim and Khloé come in.
Bendjima posted a screenshot of a Daily Mail article showing photos of him on that Mexican vacation with Ozuna and friends and said,
They really want me to be the bad guy f*ck your Hollywood bullsh*t (can't have fun with your friends no more) dailymail Where are my 12 others friendssss? Nice catch tho 🎣
The Instagram account The Shade Room posted a screenshot of Bendjima's story about the "Hollywood bullsh*t," and Khloé Kardashian commented on the account's post.
She said, "Alexa play 'heard it all before' by Sunshine Anderson." All of these "Alexa, play..." memes give me life. Also, damn, Khloé!
Bendjima posted again to his Instagram story, writing,
Once again you guys failed. I'm not attached to this 'life' so you can't touch me. I know who I am where I'm from and where I'm going and that bothers you. Only one opinion matter The one of my Lord. Have a wonderful day.
The Shade Room posted a screenshot of this story as well, and Kim Kardashian commented saying, "Nice pics from your 'boys trip.'" Eek! The Kardashian sisters are totally in "ride or die" mode right now.
Kourtney, on the other hand, is reportedly trying to keep things low-key on her end of the breakup. "They decided to take time apart, but ultimately it led to a split," a source told E! News. "Kourtney is upset but she is trying to focus her energy on other things and stay busy. Kourtney doesn't plan on calling attention to it publicly and wants everything to blow over." We'll see about that.