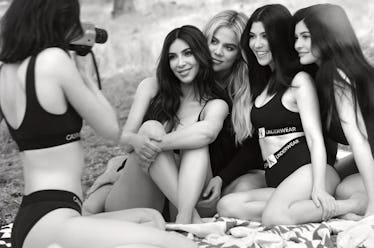 Khloé K Is 8 Months Pregnant & So, So Stunning In The New Kardashian Family Calvin Klein Ad
The Kardashian sisters are back with a new Calvin Klein campaign and this one comes with 100 percent more trees and a 100 percent more pregnant Khloé Kardashian. Fans might remember the first time the family endorsed the brand's underwear and jeans back in January when Kylie Jenner was still hiding her pregnancy from the world. However, at eight months pregnant this time around, Khloé isn't trying to hide anything. The new Kardashian family Calvin Klein ad features the middle sister at eight months pregnant and looking as flawless as ever. She's swinging on swings, walking around in a sports bra, looking serene, stoic, and full-on stunning.
The second installment of the campaign features all of the sisters in some sort of underwear or denim ensemble, as per usual. If you guys recall from last time, sister Kylie used a patchwork blanket to hide her bump. This time around, she's still carrying the blanket but she's also showing off her post-baby bod. Fans know Kylie gave birth to her daughter, Stormi, on February 1, and a few months later, Khloé delivered her baby girl, True, on April 12. If you're doing the math, that means this photoshoot took place sometime in early March and took five whole months to get in front of our desperate consumer eyes.
Look at these photo masterpieces, all shot by photographer Willy Vanderperre.
Here are Kendall and Kylie being like, "We love a good picnic."
This is Kendall and Khloé just taking a rest from a long day outdoors.
Here, everyone was trying to take a photo but Kenny saw something more interesting she just had to get to.
This is Khloé and Kim who don't even have time for your nonsense.
Here's the whole family just keeping it cool and loose.
Khloé told People magazine she and her sisters seemed to feel more at ease for this second shoot with the iconic brand. "I think we were all a little more comfortable this time around, but shooting for Calvin Klein is always a little bit intimidating," she said. Despite her impending due date, Khloé explained, "I stayed calm though, and it was nice to laugh a lot with my sisters throughout the whole day." Her favorite CK items are sports bras because they offer her more support than other brands. Khloé said, "I never want to take them off."
According to Calvin Klein, the 2018 underwear and jeans campaign "continues the journey of the globally recognized #MYCALVINS movement." The hashtag is designed to encourage CK consumers and fans to "demonstrate what family means" by utilizing the hashtag on social media and rocking their own CK swag.
Oldest sis Kourtney Kardashian explained during the first campaign shoot, "As sisters, we talk to each other all the time. We're definitely a modern family, and Calvin Klein embodies Americana."
Take a look at this modern family in the new campaign video.
Just like you and your, fam. Right?
Gorg.
Check out the entire Gen Why series and other videos on Facebook and the Bustle app across Apple TV, Roku, and Amazon Fire TV.