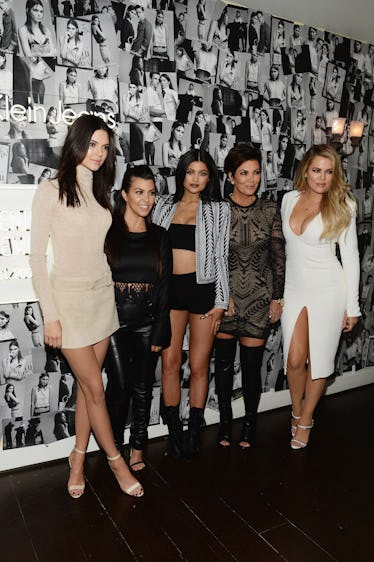 Nothing Comes Between You & The Kardashian's Calvin's, Since Their Looks Are Cheap AF
Chris Weeks/Getty Images Entertainment/Getty Images
The SAG Awards were less than 24 hours ago, and it was a huge night for most everyone in Hollywood except the Kardashian-Jenners. Naturally, the famous fam is already reclaiming the limelight with a new fashion campaign, but the clothes are surprisingly affordable, and here's where to buy the Kardashian Calvin Klein clothes.
The Kardashian-Jenners break for no award show. The well-oiled machine that is Kris Jenner is always running, whether it entails Kim Kardashian West's KKW Beauty releases and Kendall Jenner randomly showing up on the Golden Globes red carpet, or Khloe Kardashian announcing she's expecting and Kylie Jenner not confirming her own pregnancy, or denying it. Oh and Kim had her third baby via surrogate. The list could go on but you get the point, the Kardashin-Jenner family likes to stay relevant. They also like to reproduce.
The sisters' newest headline-catching event is more low-key than all of their babies popping into the world, but just as beautiful. The five sisters who have come to embody the Kardashian name (Kourtney, Kim, Khloe, Kendall, and Kylie), despite them all not actually having it, star in the new familial-themed ad campaigns for Calvin Klein Jeans and Calvin Klein Underwear. The best part of the campaign is actually how affordable the clothes are. Wait what, does that mean you can wear the same clothes as Kim and Kendall without going bankrupt? It sure does.
Family First
The official Calvin Klein Instagram account posted a teaser photo of two women in the brand's signature underwear. At the time I didn't think it would be the Kardashians but now I'm all like, how could it not be??
The brand revealed the first of it's new Kardashian campaign photos. You can see that the first photo was a closeup of Kim and Khloe. I also can't help but notice only one of the girls isn't showing her stomach, could it be that Kylie is hiding her baby bump?
Khloe actually confirmed that she was pregnant during this shoot, although you can hardly tell in the photos, but Kylie is still hiding her stomach.
Time to shop!
Body Unlined Cut-Out Bralette, $28, Calvin Klein |
Body Bikini, $20, Calvin Klein
Aside from being gifted with new photos of all the sisters together, the main highlight is that you, yes you, can shop directly from these ads, and the clothes are affordable AF. Khloe is wearing this $28 bra and Kim and Kourtney are wearing these $20 bikini briefs. See what I mean?
Body Unlined Bralette, $32, Calvin Klein |
Body Boyshort, $22, Calvin Klein
Kim and Kylie show off their ample assets in this $32 bra, and Khloe and Kendall slay in these boyshorts. You can get Kim's full undergarment look for $52. I always assumed she didn't put anything on her body that retailed in the double digits but I'm happy to be proven wrong here.
Body Ribbed Tank Top, $24, Calvin Klein
Kendall rocked this $24 tank top and it's the one item from this first photo that you can wear on its own outside the house. Score.
Modern Cotton Triangle Bralette, $36, Calvin Klein |
Modern Cotton Short, $22, Calvin Klein
Here again is Kim's full "outfit" for a decently affordable $78.
Modern Cotton Bodysuit, $59, Calvin Klein
Khloe stands out in her black bodysuit. The mom-to-be announced her pregnancy in a Calvin Klein bra so you know she is loyal to the brand.
Modern Cotton Bralette, $28, Calvin Klein
This is the bra Khloe wore in her pregnancy announcement post and Kendall is now borrowing it for the shoot! I guess sisters really do share clothing.
Skinny Mid-Rise Classic Blue Jeans, $118, Calvin Klein
Kendall comin' in hot again with the real clothes in these jeans.
Dark Indigo Denim Western Shirt, $70, Calvin Klein
Kylie is rather buttoned up in this western-style denim shirt.
To see the rest of the photos and shop the full looks (the prices range from $20 to $168!), check out the Calvin Klein site for the Kardashian-Jenner ladies in all their glory.